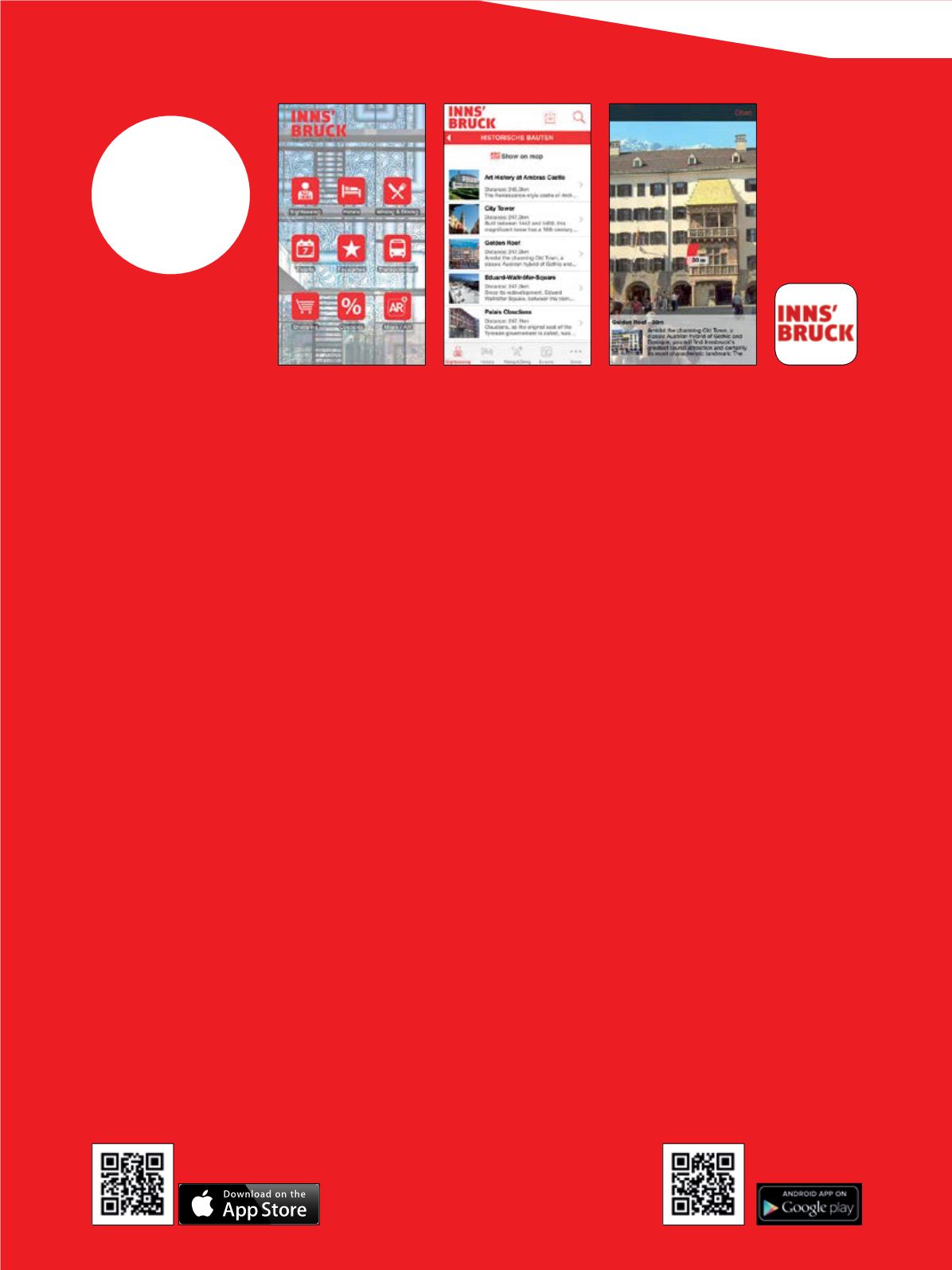 D
ieNacht istnoch jungundSiemöchtenwissen,wasdieStadt
zu bieten hat? Die Innsbruck-App zeigt Ihnen, welche Par-
ty, Ausstellung oder welches Event stattfindet. Infos, wie Sie
sie vonAnachB kommen, finden Sie imBereichder öffentlichenVer-
kehrsmittel.Hungrig? Sehr gut: DieApp zeigt IhnennämlichauchRe-
staurants und Gasthäuser entweder in alphabethischer Reihenfolge
oder reiht die Locations aufgelistet nach der aktuellen Entfernung.
Mahlzeit! Und selbst wenn Sie gerade nicht in der Stadt sein soll-
ten, sind Sie immer up to date. Wir informieren Sie gerne per Off-
line-Push-Nachricht über besondere Highlights und Attraktionen in
Innsbruck – für Ihre Freizeitplanung.
GUTSCHEINE. SHOPPING. INNSBRUCK-APP!
Einkaufen in Innsbrucks Innen- und Altstadt und dabei sparen und das
eineoder andere Schnäppchen ergattern? Ab sofortmöglich für alle, die
sichdie Innsbruck-Appherunterladen!Neben Informationen rundumdie
Landeshauptstadt findetman inderAppexklusiveGutscheine,dankderer
man inzahlreichenGeschäftenundLokalenvieleVorteilegenießenkann!
App downloaden – Gutscheine durchstöbern – direkt vor Ort im Ge-
schäft oderRestauranteinlösenundvondenVorteilenprofitieren!Viel-
leicht gibts was gratis? Vielleicht was vergünstigt? Schauen Sie rein –
T
he night is still young and you want to know what the ci-
ty has to offer? The Innsbruck App shows you which party,
exhibition or event is on. Information on directions is avai-
lable in thepublic transport section.
The App shows you restaurants or pubs either in alphabetical or-
der or bydistance. Enjoy yourmeal! Andeven if youarenot in the city
you are always up-to-date. It is our pleasure to inform you viaOffline
Push Notifications about special highlights and attractions in Inns-
VOUCHERS. SHOPPING. INNSBRUCKAPP!
Go shopping and get discounts in the city centre and theOld Town. Now
available for everyone that downloads the Innsbruck App! Besides infor-
mationabout thecity, youcan findexclusive vouchers in theapp forma-
Download theapp–checkout thevouchers– redeem themdirectly in the
shopor restaurant and enjoy the advantages! Maybe you get something
for free.Havea look– it isworth it!
INNSBRUCK-APP–MACHENSIE INNSBRUCKZU IHRERSTADT
INNSBRUCKAPP–MAKETHECITYYOUROWN
InfoszuSehenswürdigkeiten, Unterkünften, Shopping, RestaurantsundVeranstaltungensindauchoffline immer in
Echtzeit verfügbar. UnddasCoolste istdieAugmented-Reality-Funktion: EinBlickdurch IhreHandykameraverrät
IhnenWesentlichesüberdiebetrachteteSehenswürdigkeit. //Getuseful informationonsights, accommodation,
shopping, restaurantsandevents inyourofflinemodus! Getall the informationyouneed -whereyouwant it,when
youwant it. Checkout theAugmentedReality feature: Get the lowdownon Innsbruck'ssightswith justone look
throughyour smartphonecamera.
GRATIS
FREE