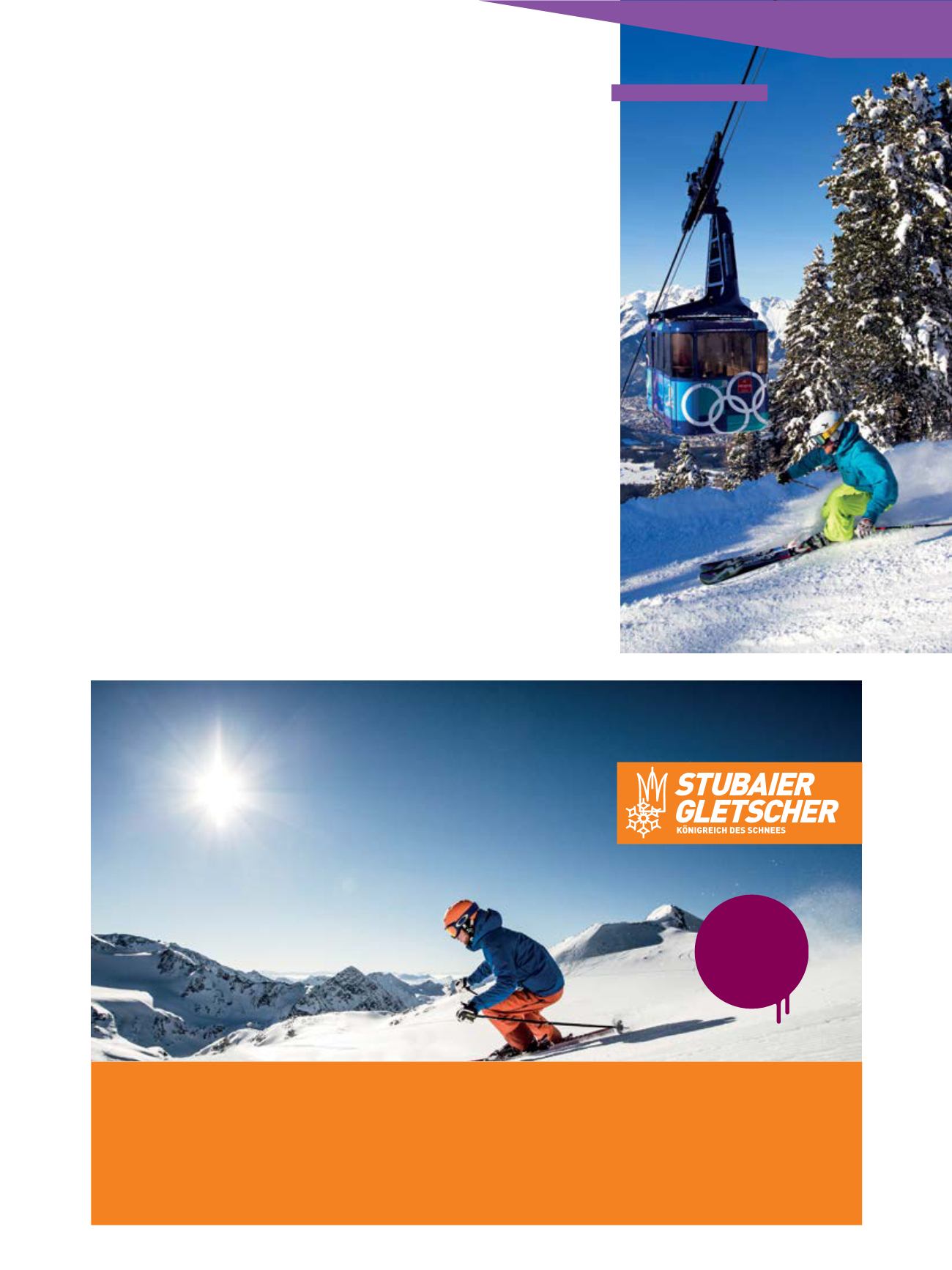 KÖNIGLICH
SKIFAHREN
stubaier-gletscher.com
++++
GRÖSSTESGLETSCHERSKIGEBIET
ÖSTERREICHS
++++
SCHNEEGARANTIEVONOKTOBERBIS JUNI
++++
45MINUTENVON INNSBRUCK
DirekteBusverbindungab Innsbruck-
++++
HIGHLIGHTS:
SnowparkStubai Zoo, BIG Fa-
mily StubaierGletscher, PowderDepartment
++++
NEU!
EISGROTTESTUBAIERGLETSCHER
++++
AUSTRIA'SLARGESTGLACIERSKIINGAREA
up to3,210mabove sea level
++++
SNOWGUARANTEEFROM
OCTOBERTO JUNE
++++
45MINUTESAWAYFROM INNSBRUCK
direct bus service frommain station
++++
HIGHLIGHTS:
Family Stubai Glacier, PowderDepartment
++++
CHILDRENUNDER10YEARSRIDEFREE
(whenaccompaniedby apayingparent)
Mutterberg2 · 6167Neustift · Österreich · Tel. 004352268141 ·
EVENTSHERBST/WINTER2014/15
++++ WEISSEWIESN -
SKI-OKTOBERFEST
++++ MOREBOARDS
STUBAI PREMIERE
++++ SPORTSCHECK
GLETSCHERTESTIVAL
++++ DINE&WINE
++++ POWDERDEPARTMENT
FREERIDECAMP
KÖNIGLICH
SKIFAHRE
ROYALSKIING
stubaier-gletscher.com
STG14001_welcome_innsbruck_winter_170x120_de_en.indd 1
Patscherkofel –derHaus-undOlympiaberg
Mit seinem charakteristischen rundenGipfel ist der Patscherkofel InnsbrucksHausbergund le-
gendärer Schauplatz der Herrenabfahrt bei den Olympischen Winterspielen 1964 und 1976.
Von IglsausschwebtmanmitderhistorischenPendelbahnoderdemOlympiaexpress-Sessellift
ins traditionelleSkigebietmit 20Pistenkilometern. Plus: Snowpark für alleSchwierigkeitsgrade.
Einkehrschwung:
SchutzhausamPatscherkofel
Direkt an der Piste des Skigebietes auf 1.964Metern gelegen, mit alpinem Rundumtraumblick
vonder großenSonnenterrasse. BeliebtesZiel vonSkitourengehernmit absoluter Spitzengastro-
nomie. Spezialitäten: Kalbsrahmbeuschelmit Semmelknödel, Flusskrebsgröstl aufWeißweinso-
ßeoder Variationen vomHausstrudel.
Täglichgeöffnetwährendder Betriebszeitender Bahn.
Patscherkofel –The local OlympiaMountain
ThePatscherkofel with its unique round summit is Innsbruck's localmountain and also known
as the legendary venue for themen'sdownhill at the1964and1976Winter Olympics. To reach
the topof this traditional ski areawith20kmof slopes, youhave to takeeither thehistoriccab-
le car or theOlympiaexpress chairlift from Igls. Plus: A snowpark for all levelsof difficulty.
Takea rest at:
Schutzhausat thePatscherkofel
Conveniently placed right on the slope on 1,964m, thismountain refuge offers a great alpine
view from itshuge sun terrace. It is apopular destination for ski tourers, whoenjoy the splendid
cuisine. Specialtieson themenu: "Kalbsrahmbeuschel", a traditional veal ragoutwithbreaddum-
plings, "Flusskrebsgröstl", Tyrolean crayfish gröstl on top of whitewine sauce or different varia-
tionsof thehomemade strudel. Opendailyduring the regular operatinghoursof thecablecar.