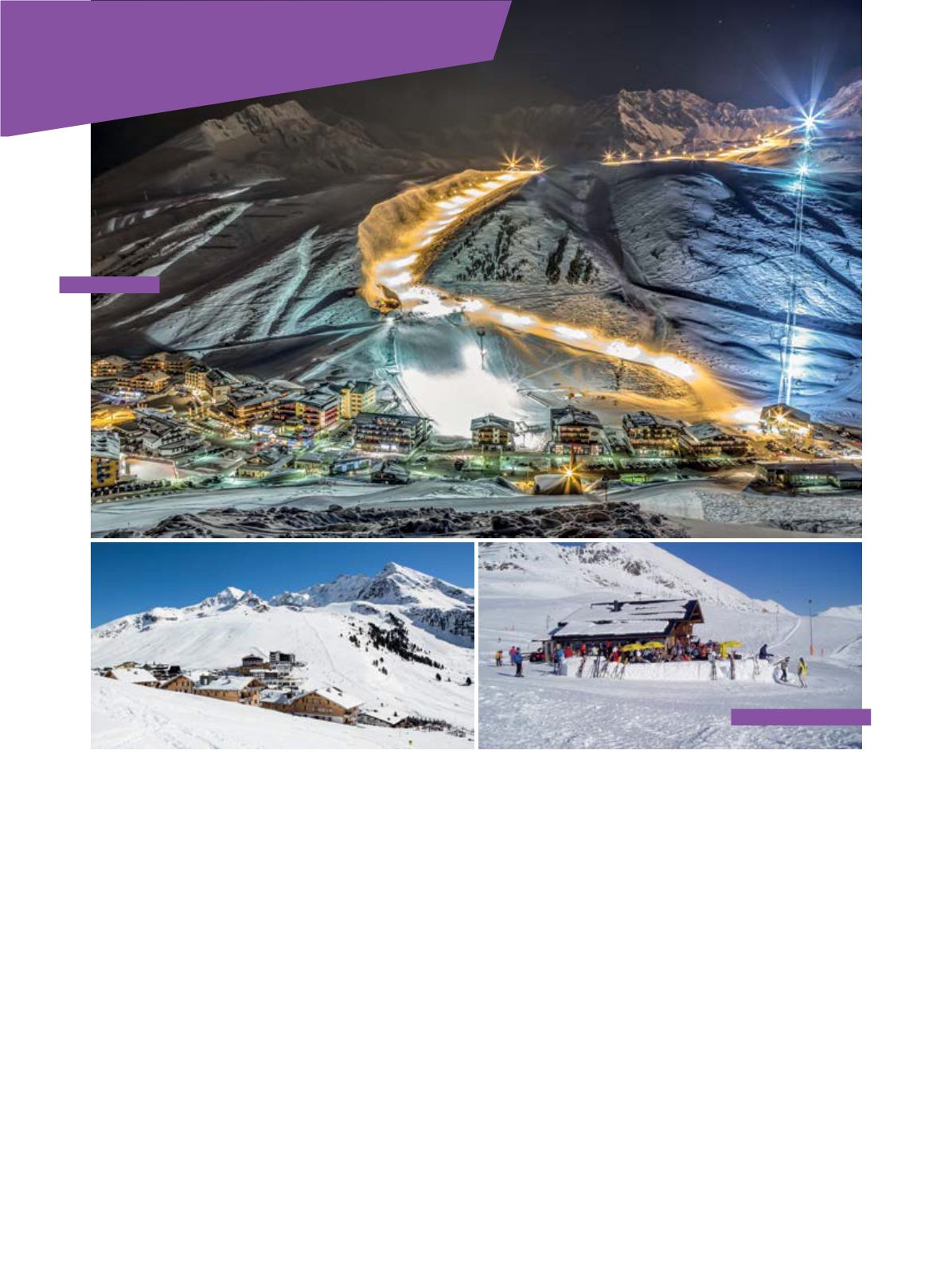 Kühtai –Autria'shighest ski village
Kühtai is a multifaceted ski area, which is ideal for families and is well-known also beyond Tyrol's border. Thanks to its privileged alti-
tude, Kühtai guarantees perfect snow conditions, which last well into spring. Enjoy over 40 km of slope and modern lifts on 2,020 m.
Tip:
Participateat thenight skiingeveryWednesdayandSaturday from7:30pmuntil 10:00pm. Slopesare illuminateduntil 11:30pm.
Takea rest at:
RestaurantKaiserMaximilian
Conveniently locateddirectly in the ski areaat the lift Schwarzmooswitha splendid viewover the sensationalmountainpanorama. Choose from
a diverse selection of traditional meals. Open daily until the end of November between 9:00am and 4:00pm. Wednesdays and Saturdays open
until 11:00pm for thenight skiing (free shuttlebus from InnsbruckonWednesdays)
Kühtai –ÖsterreichshöchstesSkidorf
Kühtai ist als sehr vielseitiges und besonders familienfreundliches Skigebiet weit über die Grenzen Tirols bekannt und garantiert bis ins Früh-
jahr hineindank seiner privilegiertenHöhenlage schneesichereAbfahrten. Über 40Pistenkilometer undmodernste Liftanlagenauf 2.020Meter.
Tipp:
JedenMittwochundSamstaggibt's von19.30bis22Uhr einenNachtskilauf, diePiste ist bis23.30Uhr hell erleuchtet.
Einkehrschwung:
BerghausZumKaiserMaximilian
Direkt imSkigebietbeimSchwarzmoosliftmit sensationellemAusblick insgewaltigeBergpanorama. GroßeSpeisekartemit TirolerKöstlichkeiten.
WillkommeneundeinzigeEinkehrmöglichkeit bis23Uhr beimNachtskilauf jedenMittwochundSamstag (Gratisskibus von Innsbruck).
Geöffnet täglichabEndeNovember bei Skibetrieb von9bis16Uhr.