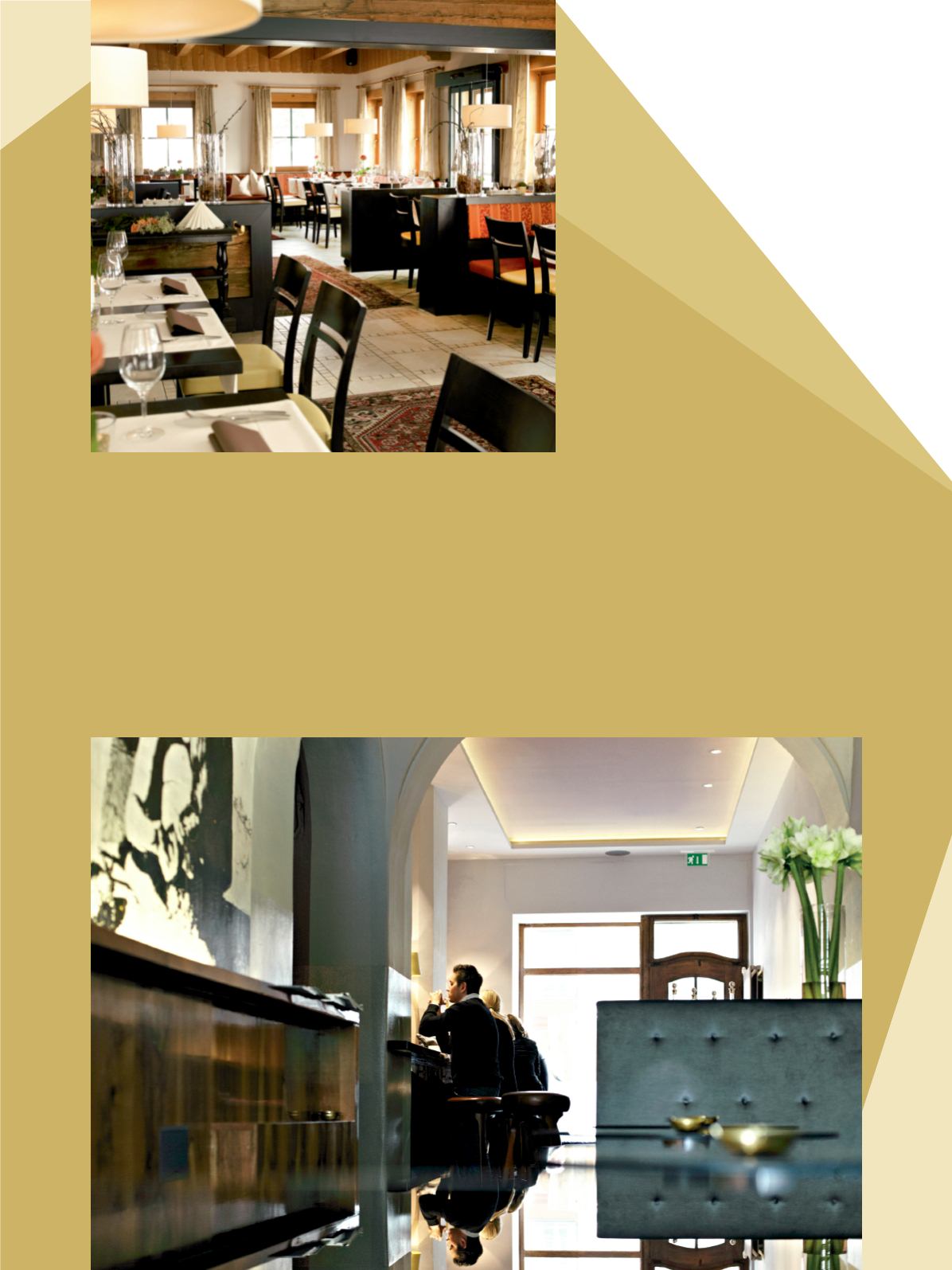 ZUMITTAG
LUNCH
Etwasoberhalb von Innsbruck imGewerbepark
GärberbachbeiMutterskocht inderMühleeiner der
wohl besten seinesFachs.WasTamer Kacar auf den
Teller zaubert, ist genial. Abendsgibt'shier geballte
Kochkunst amTeller, aber auchdieMittagskarte
steht inQualität undFeinheit umnichtsnach!
//
Just
above Innsbruck in the industrial areaofGärberbach
nearMuttersyouwill findoneof thebest chefscon-
juringupmiracles in the "Mühle" (=mill) restaurant .
In theevenings, TamerKacarprovidesasoliddisplay
in theartof cooking, butas farasqualityand
subtlety isconcerned theafternoonmenu leaves
nothing tobedesired.
DERNACHMITTAG
AFTERNOON
DieNachmittagsstunden ladenbei schönemWetter zumWandernein.Mit demBusgeht's vonder Stadt imHalbstundentakt vorbei anSchloss
Ambras insFeriendorf Rinn, dannmittelsFußmarschauf dieRinner Alm (wahlweiseamFahrtwegoder Steig zwischenetwaeiner undeineinhalb
Stunden), womanmit einer herrlichenAussicht, vorzüglichenKaspressknödeln, Kaiserschmarrenund cremigemCappuccino reichlich für den
Aufstiegbelohntwird. Empfehlenswert sindauchdieWeine, ist dieTochter derWirtindochDiplom-Sommelière.Wieder zurück inder Stadt lockt
dieBar Erlkönig (2013 von "InteriorDesignBest of Year" unter die fünf schönstenBarsderWelt gewählt)mit edlemAmbiente zumAperitif als
perfekteEinstimmungauf einengenussvollenAbend.
//
Theafternoonhoursareperfect for enjoying theoutdoors, weather permitting. Everyhalf
hour abus takes you from the citypast SchlossAmbras to theholiday villageof Rinn. Hikeup to theRinner Alm (dependingonwhichpath you
choose1–1.5hrshike). Youwill be richly rewarded for theascentwithamagnificent view, deliciousKaspressknödel, Kaiserschmarrenand creamy
cappuccinos. Once youareback in the city, indulge inanaperitif at ErlkönigBar (votedoneof the fivemost beautiful bars in theworldby "Interior
DesignBest of Year" in2013)where thenobleambiencewill set themood for aperfect evening.
©TVB INNSBRUCK,CAFÉCENTRAL,DIEMÜHLE,ERLKÖNIG