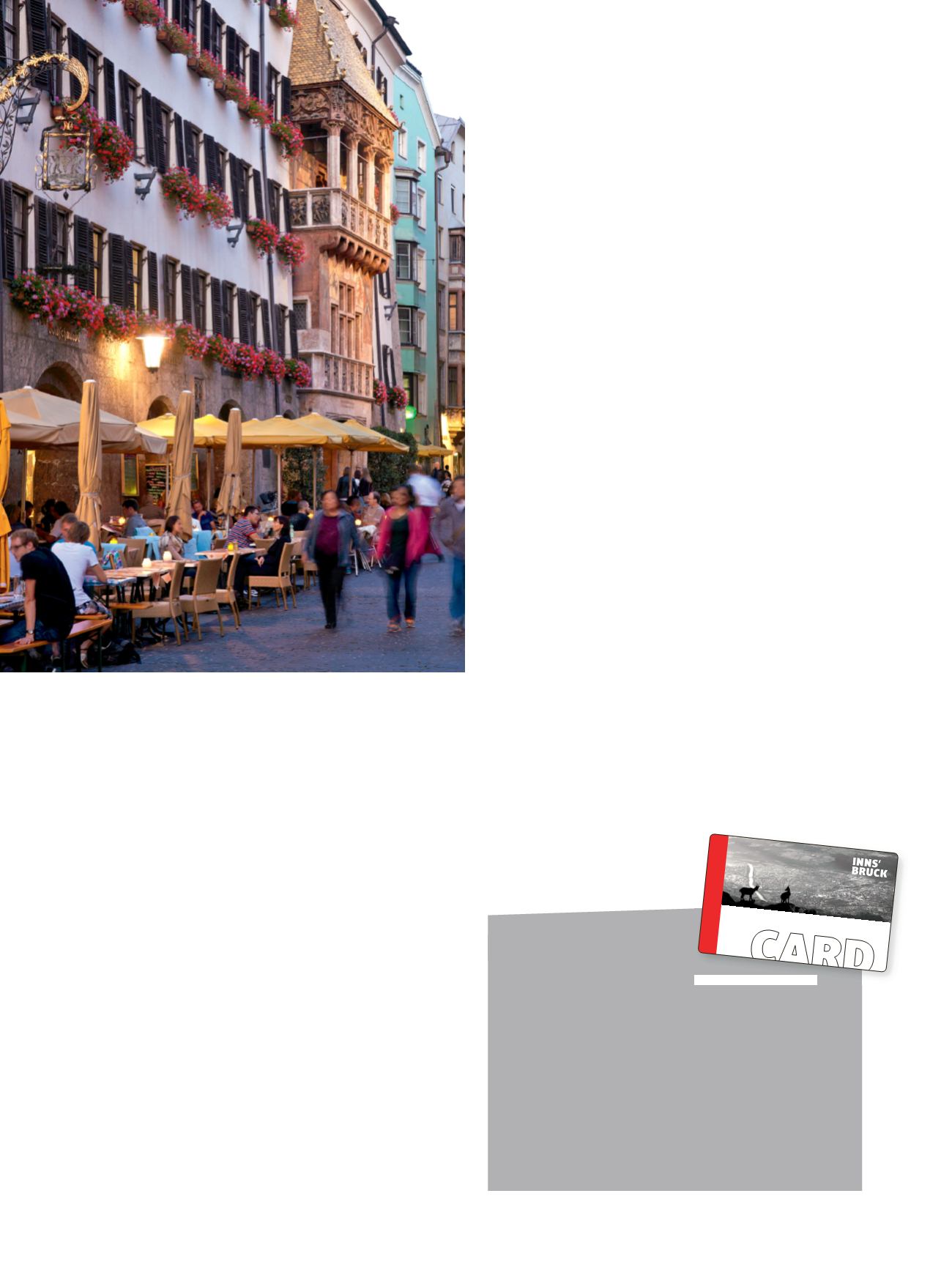 the café tower one has a magnificent view of the Nordkette moun-
tain range and the city. Brunch is served until 11am. TheHofkirche is
a "must" for all those visiting Innsbruck, with itsworld renownedmo-
nument to emperor Maximilian I. –28 larger-than-life bronze figures,
ancestors, and heroes of history, stand guard inmourning. The Hof-
burgPalacepresents itself imperially, showing rooms from the timeof
Maria Theresia as well as royal apartments built for Queen Elisabeth.
Itwas theonlyHofburgoutsideof Vienna, home toTyrolean territorial
princesand is todaymuseumandevent centre.
In the historical Old Town you are invited by numerous restaurants
and cafés to linger: Amultitude of Austrianor international cuisine is
offered and delectable baked goods give evidence to the craft of the
Especially informative are the city walks offered by "per pedes", that
take place daily at 2pm (also at 11am in July and August), they im-
part worthwhile knowledge about the city giving reference to events
and themost importanthistorical facts. Departuresare from the Inns-
bruck Informationat Burggraben3 (German&English).
The Maria-Theresien-Straße pedestrian zone is perfect to stroll and
shop. The Old Town equally attracts shoppers, offering traditional as
well asmodernproducts. Inaddition to this therearealso theRathaus
Galerien and Kaufhaus Tyrol, two shopping centres located directly in
the city. For a little refreshment you can go to any of the numerous
trendy cafésundbars in closeproximity. –Tip: "360 °" on the7th floor
of theRathausor the roof-top terraceof "ThePenz" designhotel offer
delightful drinksanda360degree view.
AfternoonOuting: Swarovski CrystalWorld
A shuttlebus runsdaily toWattens, where theunderground crystal art
chambers and the world's largest Swarovski Shop are. For those who
would like to take a short break, Café Terra is available on the premi-
ses. Pleasenote: Swarovski CrystalWorld is closed fromOctober 2014
toApril 2015 for renovations. Departure: 3:04pm fromMuseum street
in Innsbruck. Return: 5:30pm fromWattens
CulinaryEveningHighlights
For those who like it stylish, you are in good hands at the Sitzwohl
restaurant (Stadtforum, Innenstadt), at Lichtblick (Rathaus, 7th floor,
Innenstadt) or Adler's (Brunecker street, close to train station), whe-
re youwill dineat high level. LichtblickandAdler'soffer amagnificent
Classic traditional cuisine is served at the Europastüberl (Südtiro-
ler Platz, across from train station), at Sacher (Hofburg) as well as at
Schwarzer Adler (Kaiserjäger street); authentic Tyrolean food is served
at Weisses Rössl (Kiebachgasse, Old Town), the Ottoburg (Innrain 1,
entrance of theOld Town) aswell as Goldener Adler (Herzog Friedrich
street, Old Town) The best steaks are made at Piano (Herzog-Fried-
rich street) or Woodfire (University street, by hotel Grauer Bär) in the
Nightlife– for Thosewhonever Tire
Nightlife, herewe come! Hofgarten is "the" location for lifemusic. Nice
bars can be found at The Penz or Adler's, where you can stay straight
after dinner, aswell asat thePianoBar in theOldTown.
TIP:
The24hour Innsbruckcardpays
off!Withavalueof94.90euros, youonlypay33euros. If you
would like to take ita littleeasier,we recommend the48hour
Innsbruckcard for (41euros). Thatwill allowyou toalsovisit
SchlossAmbraswith itsgardensand townofHallwith itsunique
coinmuseum. If you'd rather justgoonahike, joinoneof thedaily
guided toursstartingat Congress.
InnsbruckTourismus, Burggraben3, Innsbruck
Tel.: +4351259850,www.innsbruck.info
The InnsbruckCardcanbeorderedonlineunder
Innsbruck
20140207_IBK-Card_85,6x54_RZ_final.indd 1