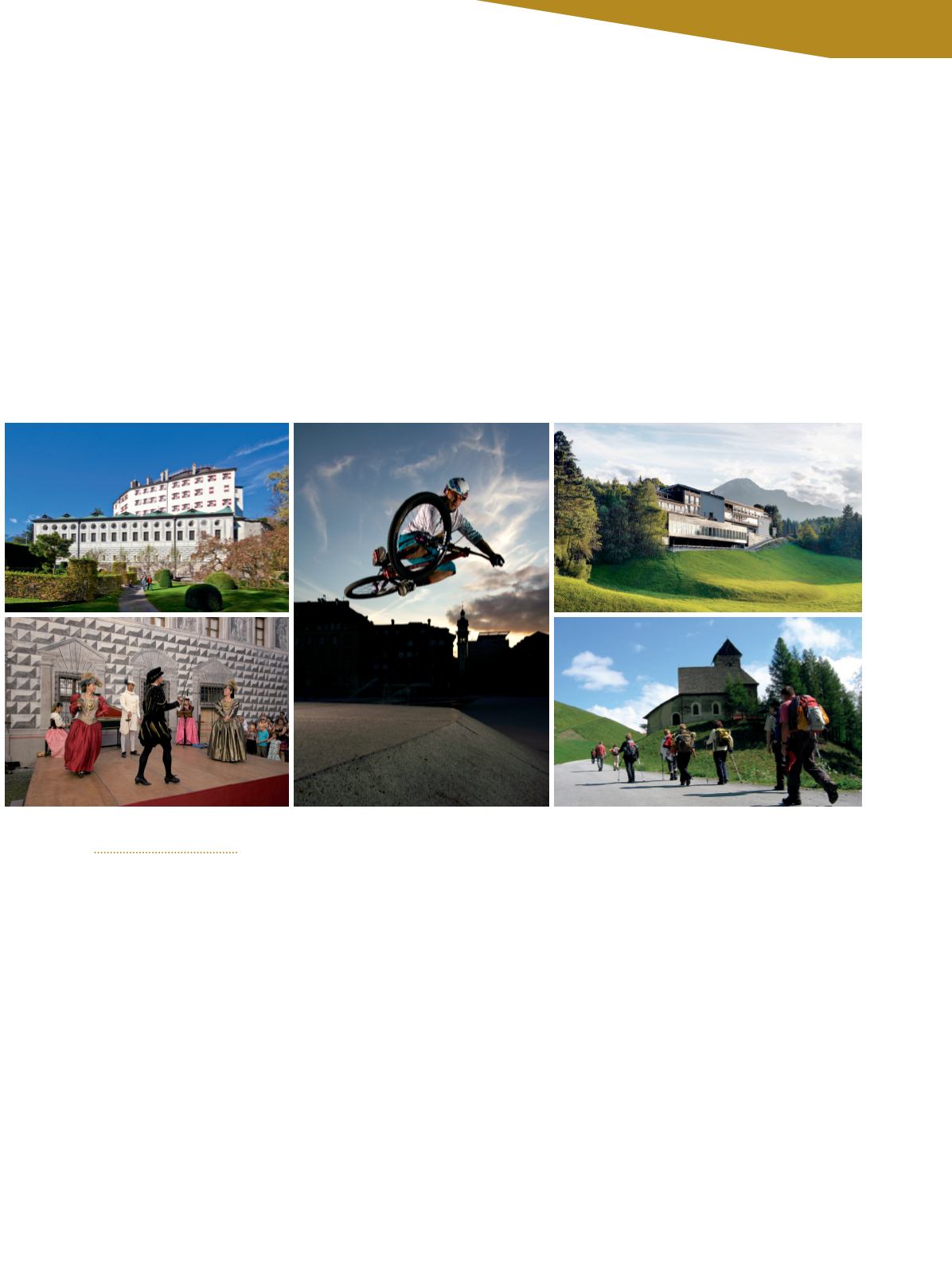 Did youknow that ...
… within25minutes you canbeon topof amountain from the city
centre? The cable car connections from theCongressover to the
Hungerburg (860meters) on to theSeegrube (1905meters) and
further on toHafelekar (2256meters)makes it possible.
... Innsbruckhasapproximately30,000students,whichmakesupal-
mosta fourthof thecity's totalpopulation, and that thesestudents
invigorate thecitywithayouthfuldynamicandcosmopolitanaccent?
... in1983 Innsbruck's first heart transplantwas successfully
completedat theUniversityClinicof Innsbruck?
... 22 yearsago thanks to thepioneer spirit of sunnyMieminger
Plateau'sAlpenresort Schwarz, theWellnessmovement swept over
"Innsbruck liesmagnificentlywithinawide, richvalley, between cliffsandmountains" –
that ishow JohannWolfgangvonGoethe
ravedabout the capital of theAlps. How righthewas. TheUniversityCityhasdeveloped intoapulsatingurban city, ayoung,
intelligent, open-mindedplacewithanavant-garde senseof alpine scenery, ecologicalmajesty, competence in sportsanda
fascination for thealpineworld. Here, ataglance, a few facts, tipsand informationon the colourful paletteof Innsbruckand its
holidayvillages.
||
RENATELINSER-SACHERS
... since1984Lanserhofhasgained international reputationas the lea-
dinghealthcentrebasedon theF. X-Mayrphilosophy. Parkhotel Igls
hasalsopioneered inhealthcarespecializingon theMayrMedicine.
... theBurton cult brandhas itsEuropeanheadoffice situated in
... since theyear1599bells thatsound inover100countries
throughout theworldhavebeencasted in theGrassmayrbell foundry
... at theVillaBlankaSchool of HotelManagement, top rate tourist
service forces are trainedandeducatedproducinga talent pool of
people that areemployedaround the globe in topmanaging