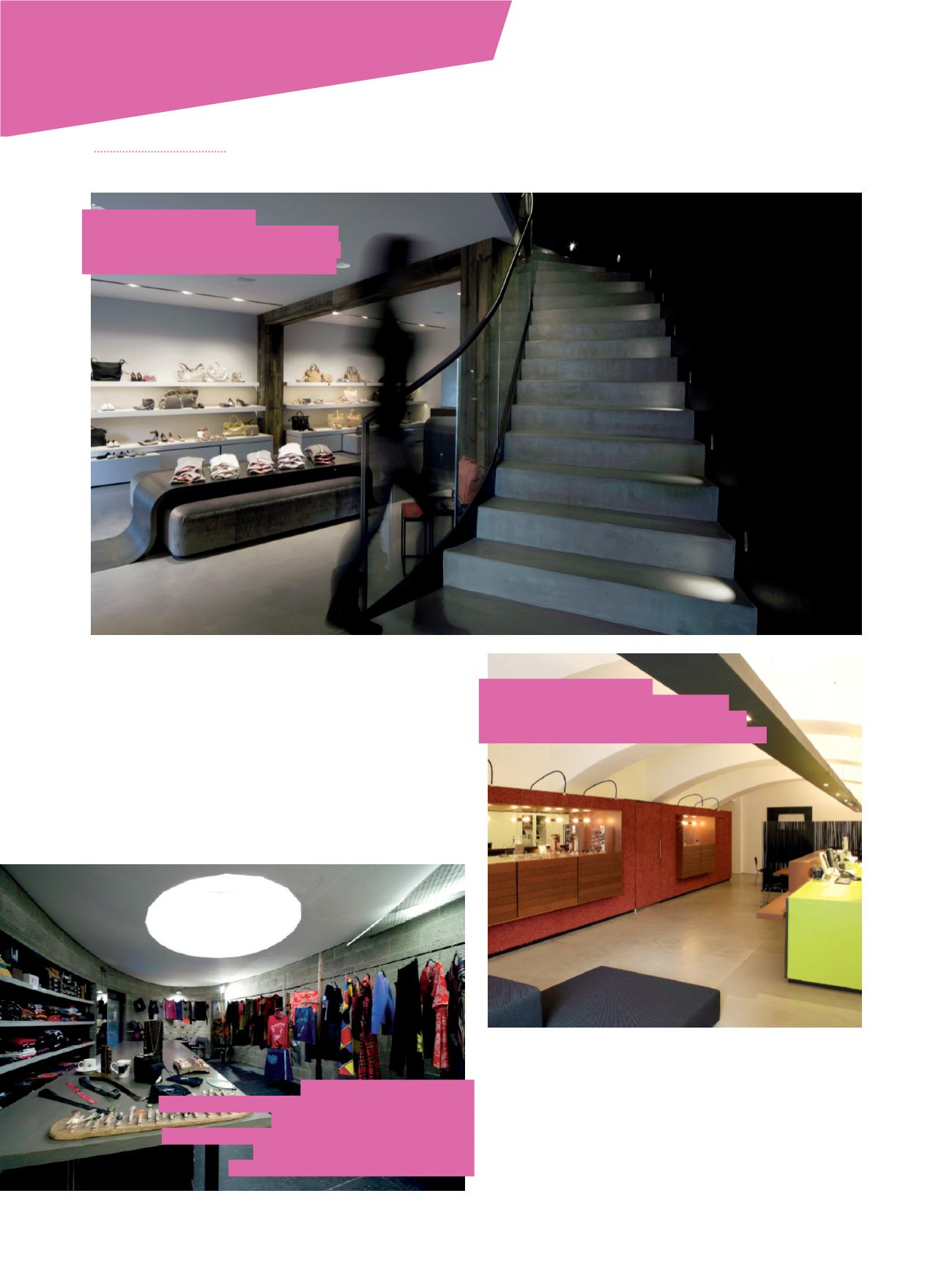 Mode // Fashion
Gschwantler am Marktgraben (Markt-
platz Richtung RathausGalerien) ist ein
Concept Shop für Fortgeschrittene, ge-
staltet mit ganz viel architektonischem
Feingefühl. Hier finden modebegeis-
terte Männer und Frauen ein exklusi-
ves Sortiment internationaler Schuh-
Marktgraben (Marktplatz, direction Rat-
hausGalerien) is a concept shop for the
sophisticated, designedwithquite a bit
of architectural sensitivity. Here men
and women can find an exclusive as-
sortment of international shoes and
Öffnungszeiten //Openinghours
Mo. bisFr. von10bis18Uhr, Sa. von10bis17Uhr
Mon toFri from10 to6pm, Sat from10am to5pm
Marktgraben17, Innsbruck,
DesignerinHermine Spanhat sich etwas versteckt in einer umgebau-
ten Garage beim Treibhaus ein Atelier eingerichtet und interpretiert
mit ihrerModeHeimat auf eine ganz eigeneWeise. Das Beste: Die ex-
travaganten Stücke lassen sich im Showroom auch gleich kaufen.
Near to the Treibhaus, designer Hermine Span set up her studio in a
converted garage off the beaten track; it is furnished and interpreted
with her fashion, creating a sense of "home" in a rather unique way.
Best of all, the extravagant pieces ondisplay in the showroom canbe
Öffnungszeiten //Openinghours
Mo. bisFr. von15bis19Uhr, Di. undFr. auch von11bis13Uhr
sowienach telefonischer Vereinbarung
Mon toFri from3pm to7pm, Tues. andFri from11am to1pm
Call for serviceoutsideour businesshours.
Angerzellgasse4, Innsbruck,
In gemütlicher Atmosphäre stöbern Sie sich am Adolf-Pichler-Platz
bei den RathausGalerien durch Aktuelles renommierter Marken wie
ic!Berlin, Lindberg, Mykita, Oliver Peoples, Paul Smith oder Stella Mc
Krischan Panoptikum is a cozy shop located by Adolf-
Pichler-Platz past the Rathaus Galerien offering renowned brands
such as ic!Berlin, Lindberg, Mykita, Oliver Peoples, Paul Smith or
Öffnungszeiten //Openinghours
Mo. bisFr. von9bis18Uhr, Sa. von10bis13Uhr
Mon toFri from9am to6pm, Sat from10am to1pm
Stainerstraße3, Innsbruck,