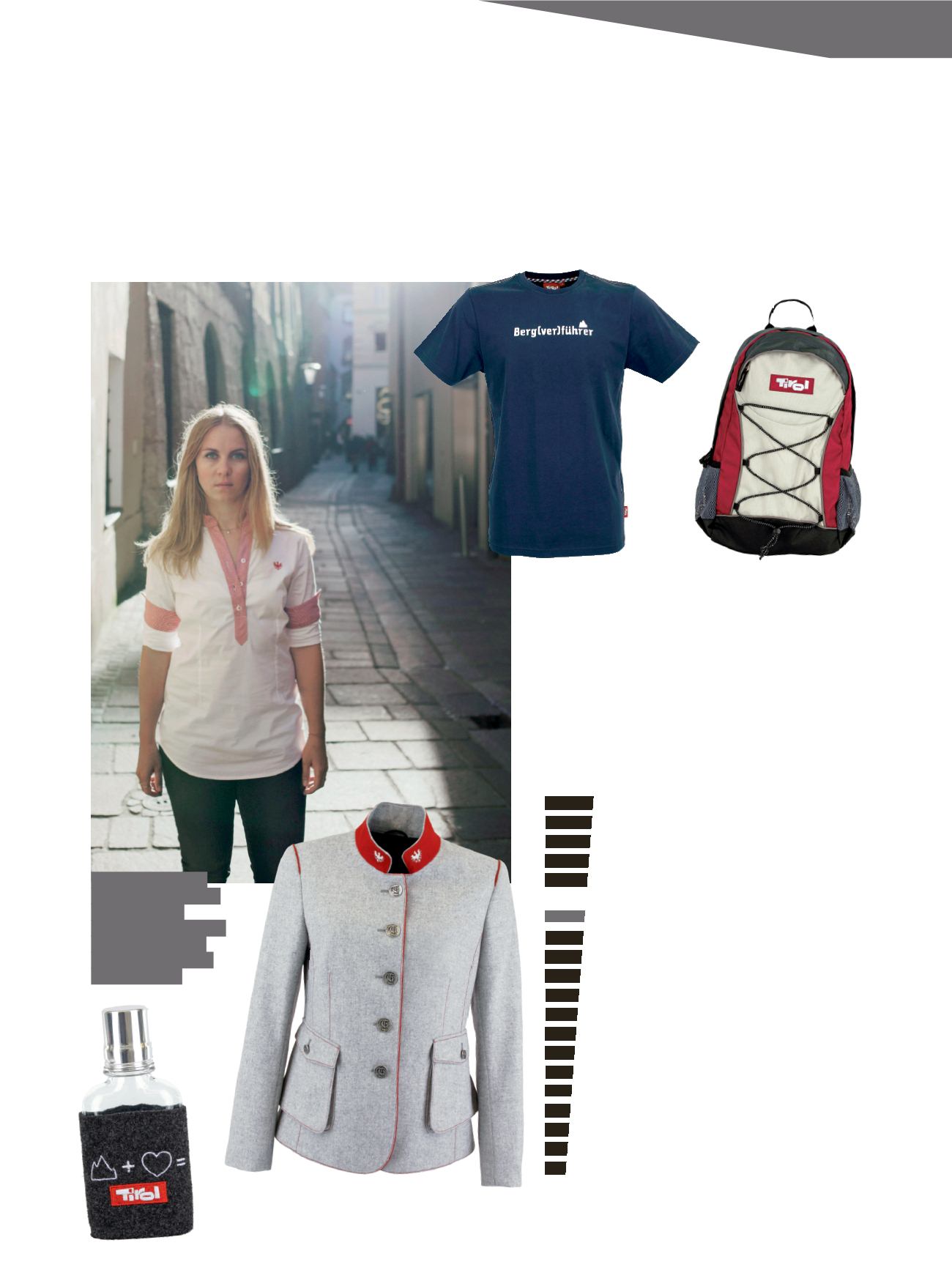 Bereits seit mehr als 10 Jahren ist der Tirol Shop die ers-
te Einkaufsadresse für Produkte, die jenes ganz besonde-
re Lebensgefühl vermitteln, das das "Herz der Alpen" für
so vieleMenschen zur SehnsuchtsdestinationNr. 1macht.
In diesem Sommer rücken die Merkmale, die für Tirol ste-
hen, noch stärker in den Vordergrund. Ob es die kulti-
gen Sprüche-Shirts sind, stilvolle modische Begleiter wie
Filz-Shopper und Umhängetaschen oder hochwertige Zir-
ben- und Glas-Accessoires – jeder Artikel steht für ech-
tes, authentisches Tiroler Lebensgefühl. Wer sich mit den
Produkten aus dem Tirol Shop als bekennender Tirol-
Fan zu erkennen geben will, der findet alle Tirol-Produk-
te im Shop in der Maria-Theresien-Straße 55 in Innsbruck.
For more than 10 years the Tirol Shop has been the top
shopping address for products that stand for a special li-
festyle that makes the "heart of the Alps" the Nr. 1 most
desirable destination. This summer characteristical Ty-
rolean features will jump even more to the foreground.
Whether it is our iconic T-shirts with their sayings, the
stylish and fashionable accessories like the felt shopping
bags and shoulder bags or high-quality Arolla pine and
Glass accessories, each article stands for a real authentic
Tyrolean way of life. Whoever wants to distinguish them-
selves as a self-professed fan can find all Tirol products
in our shop at 55 Maria-Theresien-Strasse in Innsbruck.
SUMMER INTHETYROLEANMOUNTAINS–
NATÜRLICHMITPRODUKTENAUSDEMTIROLSHOP //WELL-EQUIPPEDWITHTIROLSHOPPRODUCTS