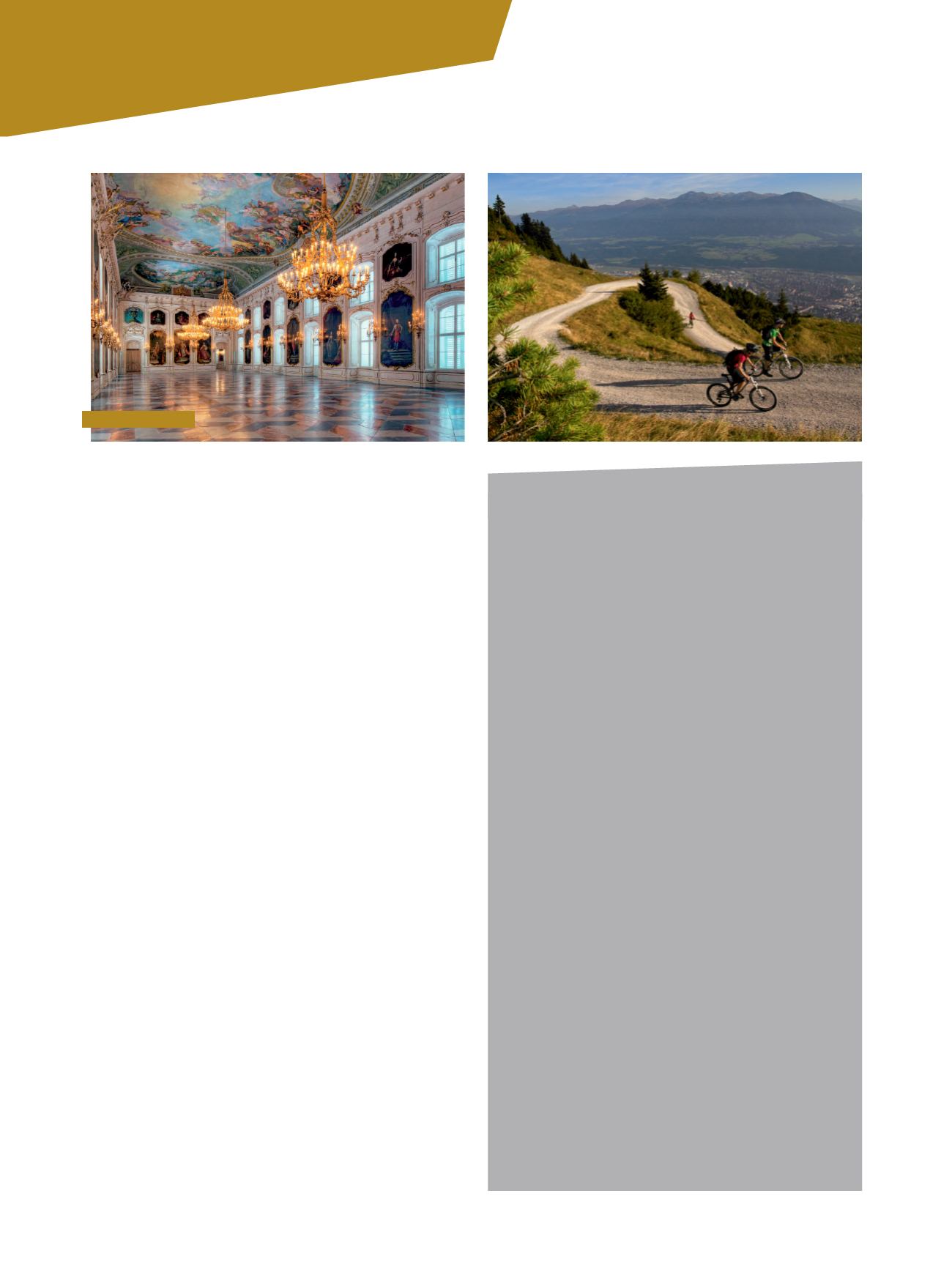 themostmuseums and historical reminiscences exhibited by its rul-
ing families. Hofkirche, Hofburg, SchlossAmbras, Zeughaus, Ferdinan-
deum & the Golden Roofmuseum all tell the story of an outstanding
ruler –EmperorMaximilian I (1459–1519).
TheTiroler Landestheater has anexcellent reputationwaybeyond the
region and is especiallywell-known for its diverseprogramme among
Bavarians (South Germany). The Festival of Early Music, which takes
placeeveryAugust,was founded in theseventies, visionaryat the time
and laughed at as a piece written by amaverick. Since then, making
music using original instruments has long become common practice
and the Festival weeks havemaintained their reputation throughout
Europe. Theorigin canbe tracedback to the17th century, when Inns-
bruck – thanks to Italian princesses –was the centre of the newly in-
Innsbruck is of course also a major sports city. The Olympic flame
burned here three times, in 1964, 1976 and also in 2012, when the
first youthOlympics tookplacehere. All varieties of sport facilities are
available: ski slopes, cross country skiing, a ski jump, ice rinks, and an
ice track for bobsledding, etc. In addition to traditional sports, almost
all popular sports are available in the greater Innsbruck area. Snow-
boarding,mountainbiking and single trail biking areparticularly pop-
ularwith the younger generation.
Innsbruck offers an unbelievable variety of nature and art – linger
here and choose something that suits you from the great selec-
tion of activities: whether you are a city tourist or a nature lover, it
will be worth your while. The Tyrolean hospitality is proverbial and
also the culinary field you will find modern and traditional next to
one another – at your whim. Innsbruck wishes you a wonderful, un-
forgettable stay and is pleased towelcome you here. Enjoy your visit
with the unique combination betweenmodern and historical, alpine
FACTSANDFIGURES
Population: 130,000•approximately28,000 students •Univer-
sity since1669•ModernCongressCentre•25holiday villages
around Innsbruck• Innsbruck card includesMountainRailways,
Swarovski bus toWattens, entrance fees toallmajormuseums,
City tours, theSightseer ...
Information: INNSBRUCK INFORMATION, Burggraben3
• HOFKIRCHE:
Monday–Saturday: 09:00–05:00, Sunday: 12:30–05:00
• TYROLEANFOLKARTMUSEUM
Daily: 09:00–05:00
• TYROLEANPROVINCIALMUSEUM
Tuesday–Sunday09:00–05:00 (ClosedonMondays)
• TYROLPANORAMA
Wednesday–Monday09:00–05:00 (ClosedonTuesdays)
• ZEUGHAUS
Tuesday–Sunday09:00–05:00 (ClosedonMondays)
• HOFBURG
Monday–Sunday09:00–05:00
• AMBRASCASTLE
Monday–Sunday10:00–05:00
• GOLDENROOFMUSEUM
Summer:Monday–Sunday10:00–05:00
Winter: Tuesday–Sunday10:00–05:00
• ALPINECLUBMUSEUM
Monday–Sunday09:00–05:00
• BELLMUSEUM
Monday–Friday09:00–05:00
May–September:Monday–Saturday09:00–05:00
• BERGISELSKI JUMP
Wednesday–Monday09:00–05:00
June–October:Wednesday–Monday09:00–06:00
• SWAROVSKI CRYSTALWORLD *
Monday–Sunday09:00–17:00
*Closed for expansionOctober2014. Reopening isexpected forMay2015.