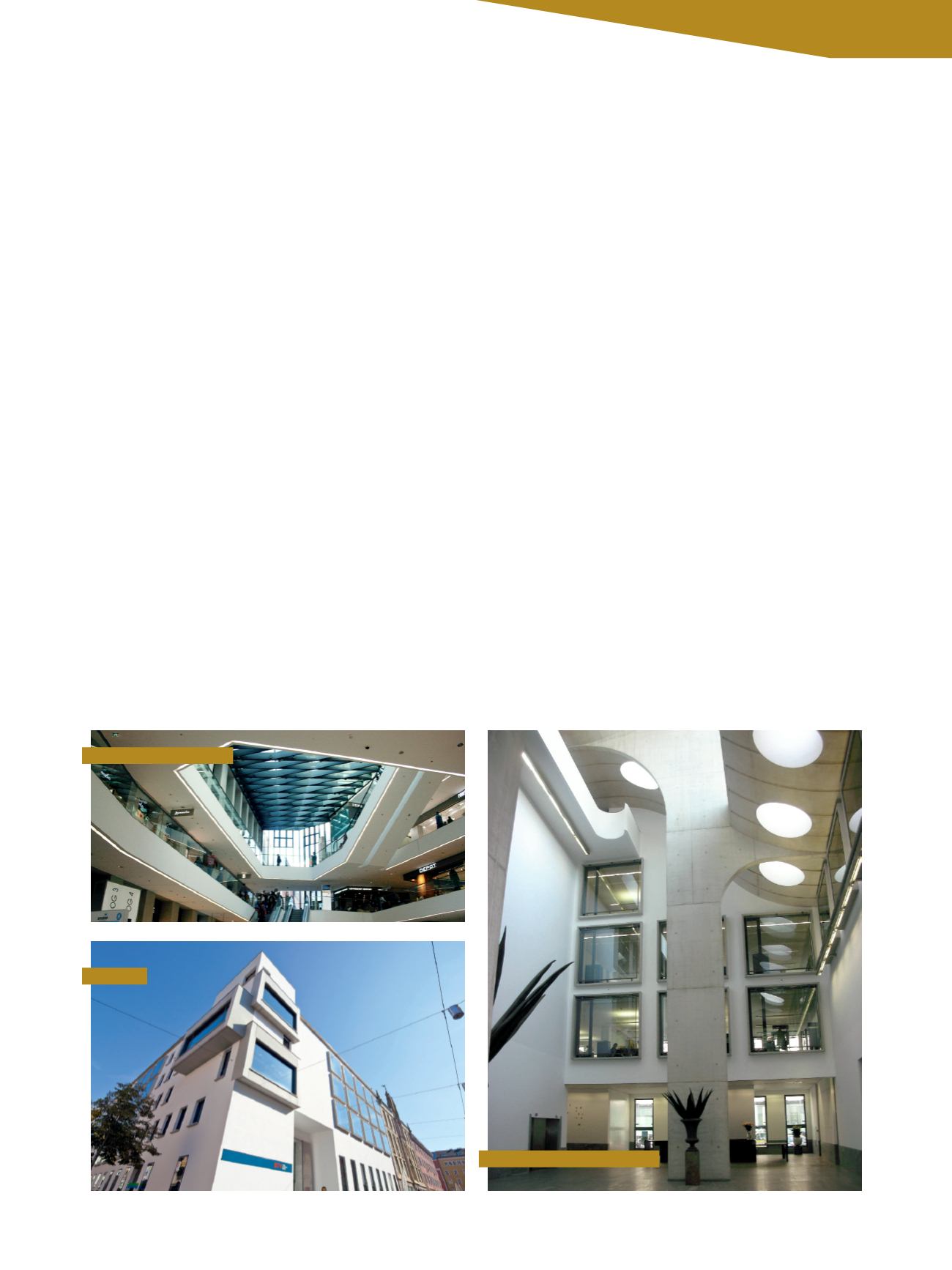 Chipperfield, Kaufhaus Tyrol
AlpineArchitecture inTyrol –20
th
century topresent.
The largestarchitectural accomplishmentafter theFirstWorld
Warwasovercoming "Historism". Adolf Loosbecameapioneerofmodernbuildingwithhis insistenceon leavingout
all thatwasdecorativeorornamental and tousesimpleshapesand forms instead.
MONIKAFRENZEL, PHOTOS: R. ANDRISEK, S. POGORELCNIK, TVB INNSBRUCK, T. BAUSE
ARCHITECTURE INTHEMOUNTAINS
One of the most well-known Tyrolean architects during the period
between the First and Second World Wars was Lois Welzenbacher
(1889–1955), who represented the international stream that was
largely influenced by the Bauhaus school and style of the period.
Welzenbacher became well known far beyond the borders of Tyrol.
Many of hisworkswhichwere produced in Tyrol have beendestroyed
today, only in the "Turmhotel Seeber" (=Parkhotel) Hall, inmunicipal
utilitiesand in theAdambräu canone still recognizehis signature.
The "Adambräu"buildingbroughtbold innovations in theareaof industrial
construction: Welzenbacher was one of the first tooffer a glance into the
brewery'sproduction throughaglasswindow.From1929–31,Sudhausand
Kühlschiffoffereda fascinatingandexciting "clear" viewof theworkarea. In
2003–04a rather subtle reconfiguration followed, fromabandoned indus-
trial construction tocentral architecture "aut"and then to "Archive" for con-
structionalartbythearchitectRainerKöberl+Giner&Wucherer&Pfeifer.
Tesar, BTV-Halle // Tesar, BTV foyer
AlpineFunctional Buildings
FranzBaumann (1892–1974) became themostwell-knownarchitect of
Alpine Functional Buildings. In1927–28he built the entire complex for
the Nordkettemountain range: from the cable car station, to the hotel
andmountainstationon theSeegrubeand to thesummit stationon top
of Hafelekar. This facility was declared a historical site in 1990. Its de-
sign vocabulary is expressed through profound dark wooden paneling,
beamed ceiling and roughwhiteplaster. The construction is deemed as
the principlework of the Tyroleanmodern interwar period. Its dignified
never folkloristicstyle isstill timelessandsignificant, even today.
Dominique Perrault (*1953), who attained international recognition
with the constructionof theNational Library inParis (1989–97), built
the Rathausgalerien shopping centre for Innsbruck (1996–2002) in-
cluding the design hotel "The Penz". The project filled a construction
gap resulting from thewar. Administrativeofficesof the city'smunici-
pal authorities, a shoppingcentreaswell as several barswere skillfully