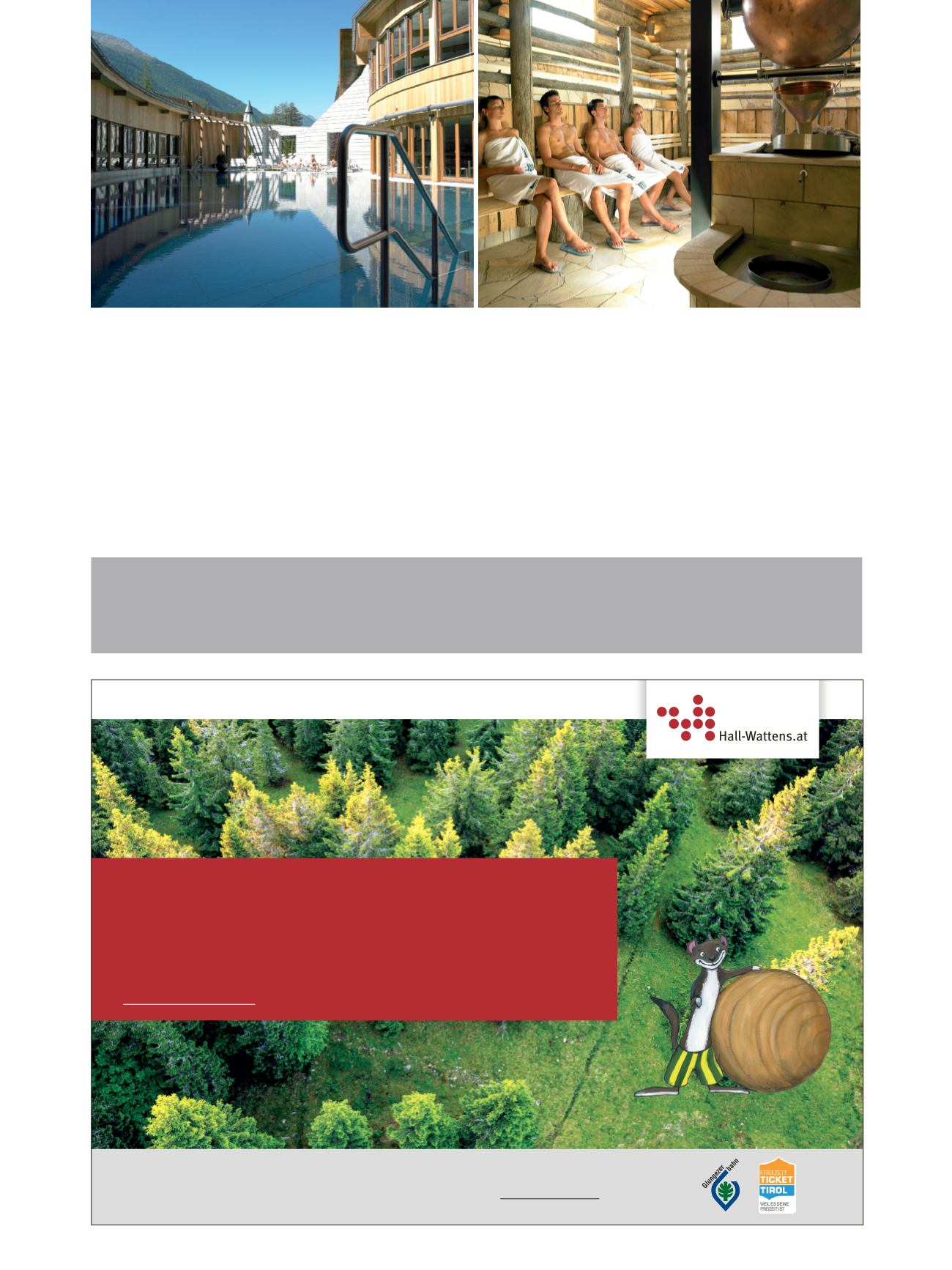 he crystalline thermal dome
Ursprung
AQUA DOME. Two large indoor pools filled with sulphu-
rous thermal water drawn from a depth of 1865 metres
are open throughout the year. Further highlights include an acti-
vity pool, chill-out rooms, sunbeds and a heated relaxation zone.
The three bowl-shaped outdoor pools appear to be levitating in
mid-air and feature underwater music, light effects, sulphurous
and brine water as well as magnificent views of the surrounding
mountains. Work up a sweat with its selection of saunas from a
gentle 55° to a scorching 115° Celsius, before cooling off under
one of the rainforest showers or with a walk through the cold-
AQUADOME–Tirol ThermeLängenfeld
Oberlängenfeld140, 6444Längenfeld, Tel.: +4352536400,
Openinghours: Thermal baths: daily from9.00am–11.00pm; Sauna: daily from10.00am–11.00pm. Guestsbuyinganevening ticket for the
AQUADOMEonSundays receive freeaccess to thesaunas. EveryFridayboth the thermal bathsand thesaunaareastayopenuntilmidnight.
Relaxon20,000SquareMeters inTirol'sonlyThermal Spa!
TheAQUADOME inLängenfeldoffers in theheartof themountainspure relaxationand regeneration.
Aworldof mountAinAdventure
open dAily from the end of mAy to the stArt of octoBer 2014
Tourismusverband region Hall-WaTTens
, wallpachgasse 5, 6060 hall in tirol, Austria
t: +43(0)5223/455 44-0, f: +43(0)5223/45544-20,
Inserat "Kugelwald" EN14/168.indd 1