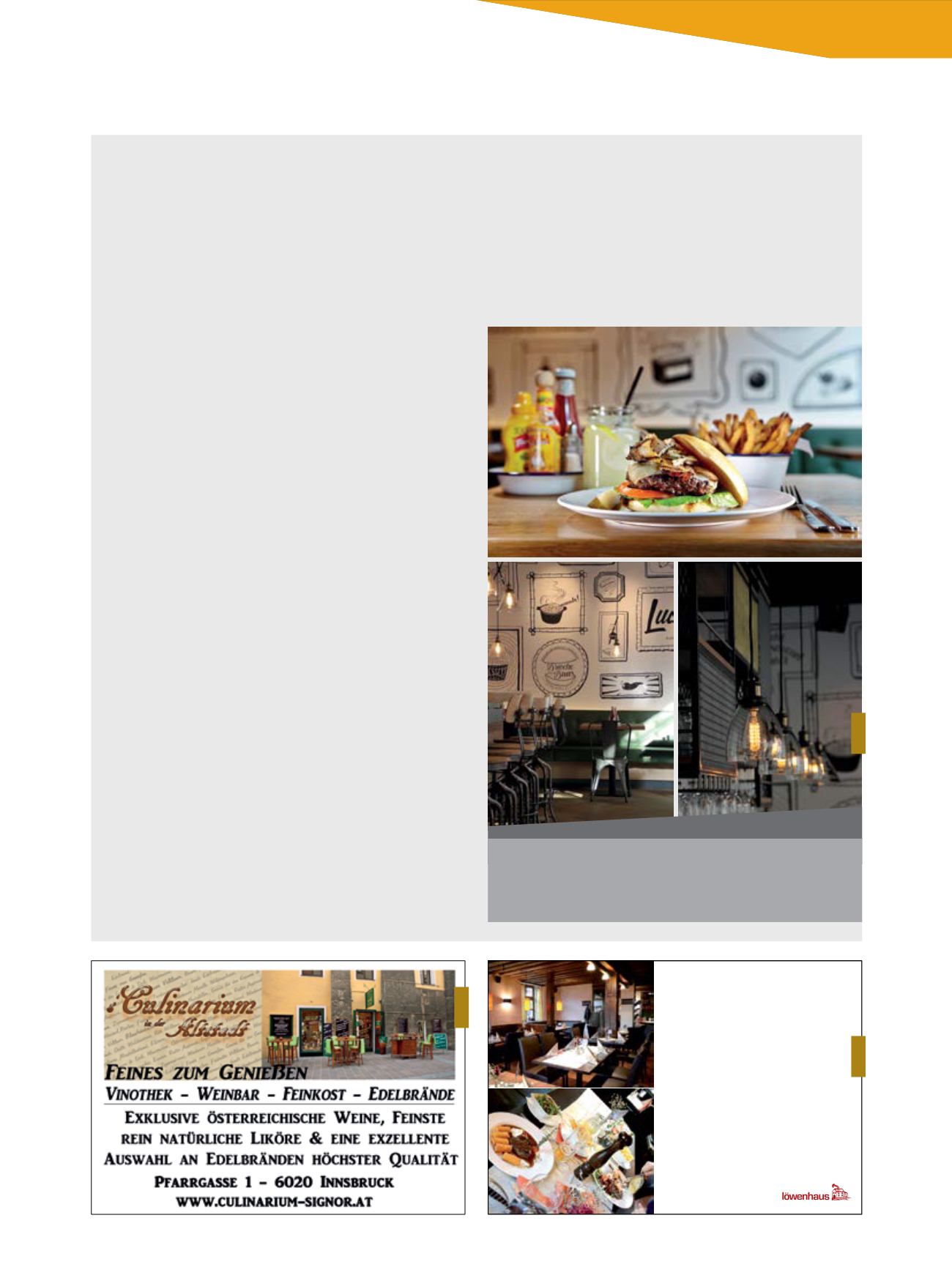 as eigens kreierte Burger-Bun ist schlicht, knusprig und
einfach lecker. Beim Fleisch sorgt die Bio-Metzgerei Juf-
finger für die richtige Grundzutat. Täglichwird frisch fa-
schiert, das Fleisch ist saftig und von kräftigemGeschmack. Das
Rezept für dieWürzmischungkennennur dieBesitzer Angelaund
ErichHauser sowiederenHaus-und-Hof-Gewürz-Alchimist.
KombiniertmandieseBausteinemit einem speziellenBurger-
grill und fügt Zutaten wie hausgemachte Pommes, für den wah-
ren Enthusiasten Macaroni'n'Cheese oder eine breite Palette an
Salaten, eigens hergestellte Eistees und Limonaden hinzu, erhält
man ein einzigartiges kulinarisches Erlebnis. Der Special-Tipp ist
natürlichderHausburger "Ludwig" – feinstesBio-Rindfleisch, dazu
knuspriger Schweinebraten, karamellisierteZwiebelnundkörniger
Krensenf. Abgerundetmit Tomatenund Salat. Und ja: Es gibt auch
Veggie-Varianten! Alles serviert in coolem, stimmigemAmbiente.
he self-created burger bun is simple, crispy and delici-
ous. The organic butcher Juffinger knows the essential
basic ingredient for themeat. Themeat isminced daily,
which gives it a fresh and juicy taste. Theonly peoplewho know
the recipe are the owners Angela and Erich Hauser and their
If you combine all this with a special burger grill and add side
dishes such as homemade french fries, Macaroni'n'Cheese or dif-
ferent salads, you will receive a unique culinary experience. Also
servedare self-created ice teasand lemonades.
Our special tip is the house burger "Ludwig" – finest organic
beef with crispy roast pork, caramelizedonions and grainy horse-
radishmustard roundedoffwith fresh tomatoes and salad leaves.
Of course, also veggie versions are available! Everything is served
DasLudwigzeigt,
dassBurgermehrsindalsFastFood. //
RestaurantLudwig
showsus thatburgersaremore than fast food.
LUDWIG–
DASBURGERRESTAURANT // THEBURGERRESTAURANT
Museumstraße3, 6020 Innsbruck,
LÖWENHAUS
TraditionellehausgemachteGerichte
undSpezialitätenvomoffenenGrill
• 5MinutenzuFußvomZentrum
Öffnungszeiten:
MO-FR 11:30-14:30und 17:30–22:30
SA, SOundFeiertags 11:30–22:30