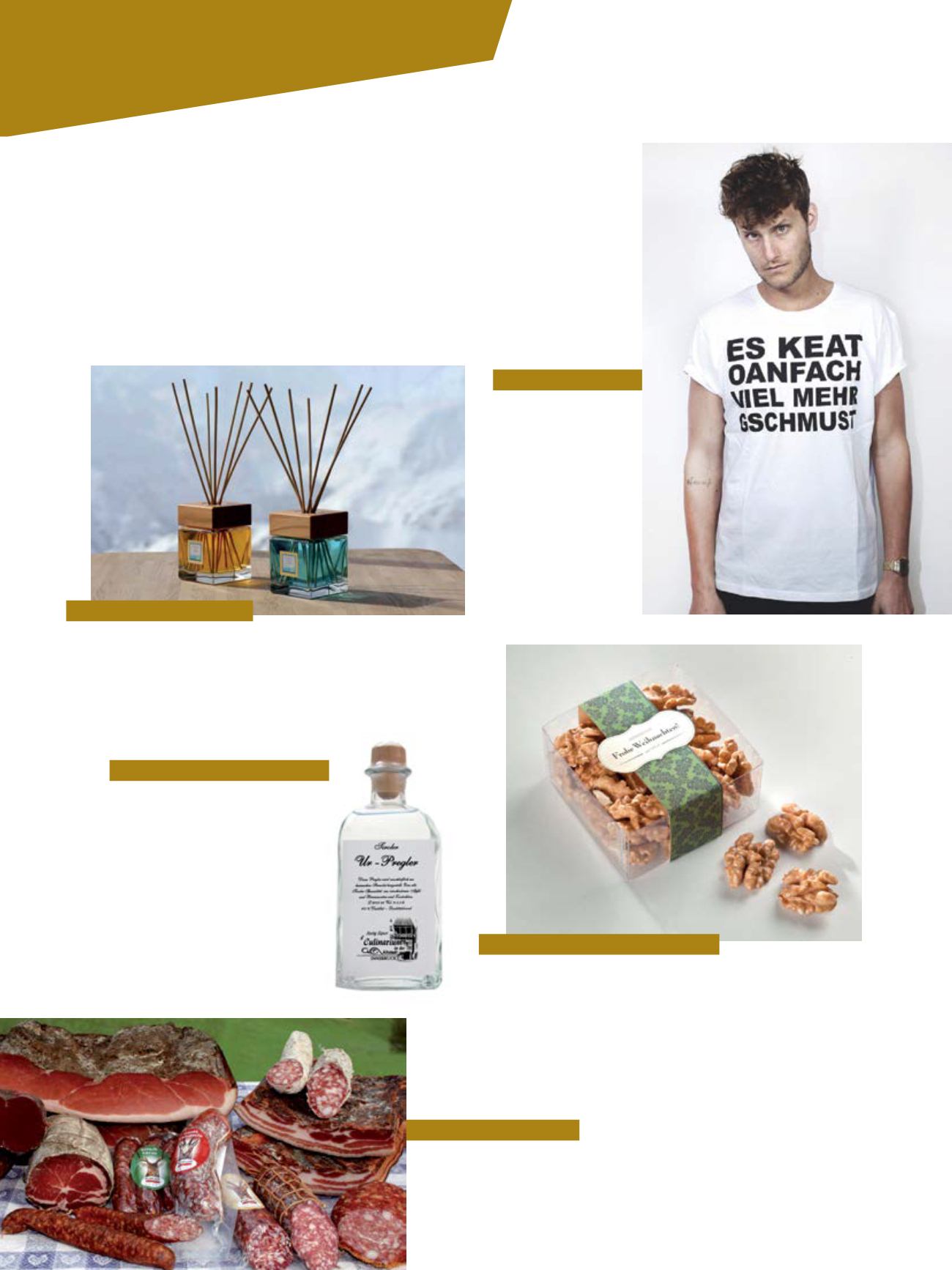 EinStückTirol
fürdaheim. //
Apiece
of Tyrol forhome.
Tirol-Duft // The scentof Tyrol
Mit denRaumdüften vonAcquaAlpes–Tirols erster Parfum-Manufaktur –
holenSie sichdenbelebend-frischenGeruchder Tiroler Bergwelt nachHause.
200ml: 39Euro / 400ml: 59Euro imAcquaAlpesStore inderHofgasse2.
Air freshenersof AcquaAlpes–first Tyroleanperfume factory–get your own
revitalizing fresh scent of Tyrol'smountainworld for your home. 200ml:
€39 / 400ml: €59 in theAcquaAlpes store inHofgasseStreet 2.
GesundesDutzend // Thehealthydozen
WunderbarekleineMitbringsel aus gesundenZutaten: Hochwertige
TrockenfrüchteunderleseneNussspezialitätenhübsch verpackt undmit
unterschiedlichenSprüchen versehen. Bei Obst undGemüseNiederwieser,
Museumstraße19 (gleichnebendemLandesmuseum).
madeout of healthy ingredients: Highqualitydried fruitsandexquisitenut
specialitiespackednicelywithdifferent proverbs. Availableat the fruit and
vegetable shopNiederwieser,MuseumStreet 19 (directlynext to theTyrolean
Hochprozentig //Highproof alcohol
Tirol &Schnaps gehört irgendwie zusammen.
SpezialitätenundRaritäten findenSie imS'Culinarium
inder Altstadt (Pfarrgasse1). Tipp: der Tiroler
Ur-Pregler, einealteTiroler Spezialität aus
verschiedenenApfel-undBirnensortenund
Zwetschken. 0,5Liter um19,90Euro.
Tyrol &Schnapsbelong together.
You can find specialtiesand rarities inS'Culinarium
in theOldTown (PfargasseStreet 1) Tip: Tyrol's
"Ur-Pregler", anoldTyrolean specialty,
producedout of different apples,
pearsandplums.0,5 l for €19,90.
DerKlassiker // TheOriginal
Speckgehört zur Tiroler KulturwiedieBerge zu Innsbruck. EchteSchmankerln findenSiebei
der AchleitnersHausmannskostManufaktur inderMarkthalle (Herzog-Siegmund-Ufer 1–3).
Tyrol'sSpeck (bacon) isas essential for its cultureas themountains. Truedelicacies canbe
foundat thehome style foodmanufacturer Achleitner in theMarkthalle (streetHerzog-
Anziehend //Appealing
FrecheShirtsundmehr finden
Franz-Fischer-Straße5. "Eskeat
oanfach vielmehr gschmust"
für Sieund Ihn, 100%Organic
Nowhere store in the street
Stylish shirts for girlsandboys
.
bigcartel.com