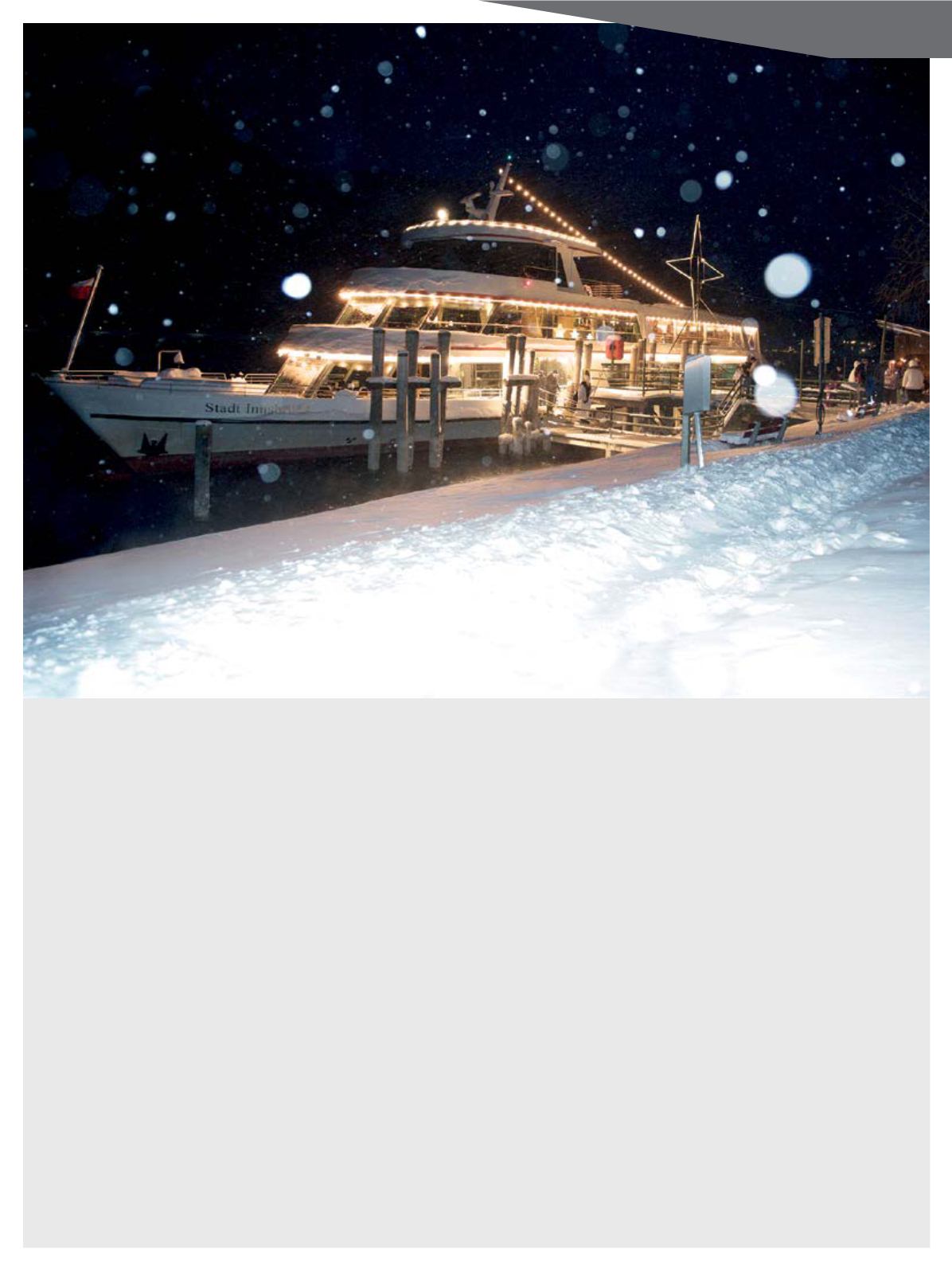 ier Lichtersterne an den Anlegestellen im Hafen Pertisau, in der
Buchau, in der Gaisalm und Scholastika in Achenkirch bilden ei-
nen Adventkranz rund um denwinterlichen See. Mit an Bord ist
einChristkindlmarktmit Verkaufsständen, Glühweinund regionalenKöst-
lichkeiten. Dazu sorgenweihnachtlicheWeisen für adventlicheStimmung.
Als Einstimmung auf das abendliche Dahingleiten kredenzenwir ein Be-
grüßungsgetränk. Anden vierWochenenden imAdventwird–mit Überra-
schungen garniert – jeweils ein Stern entzündet. Die Seeweihnacht ist da-
beidas jüngste "Kind"desprallgefülltenVeranstaltungskalendersundbietet
erstmaligRundfahrtenauch imWinter.
Reservierung isterforderlich!
ne light at each of the four harbours (Pertisau, Buchau,
Gaisalm and Scholastika in Achenkirch) represent an
Advent wreath around the winterly lake. On board a
Christmas market with stands, glühwein (mulled wine) and re-
gional delicacies can be enjoyed. Christmas carols provide fes-
tive atmosphere. To get in the mood, every guest receives a wel-
come drink. On each Advent weekend a star will be lightened
amongst other surprises… Christmas at the lake is a totally new
event offering roundtrips for the first time inwinter.
Reservation is
necessary!
CHRISTMASONTHELAKEACHENSEE
Tipp fürdieAdventwochenenden:
Der schwimmendeChristkindlmarktmitder
besinnlichenLangsamkeitder Schiffe. //
A tip for theweekendsduring theAdventperiod:
TheChristmasmarket that calmly floatsacross the lake