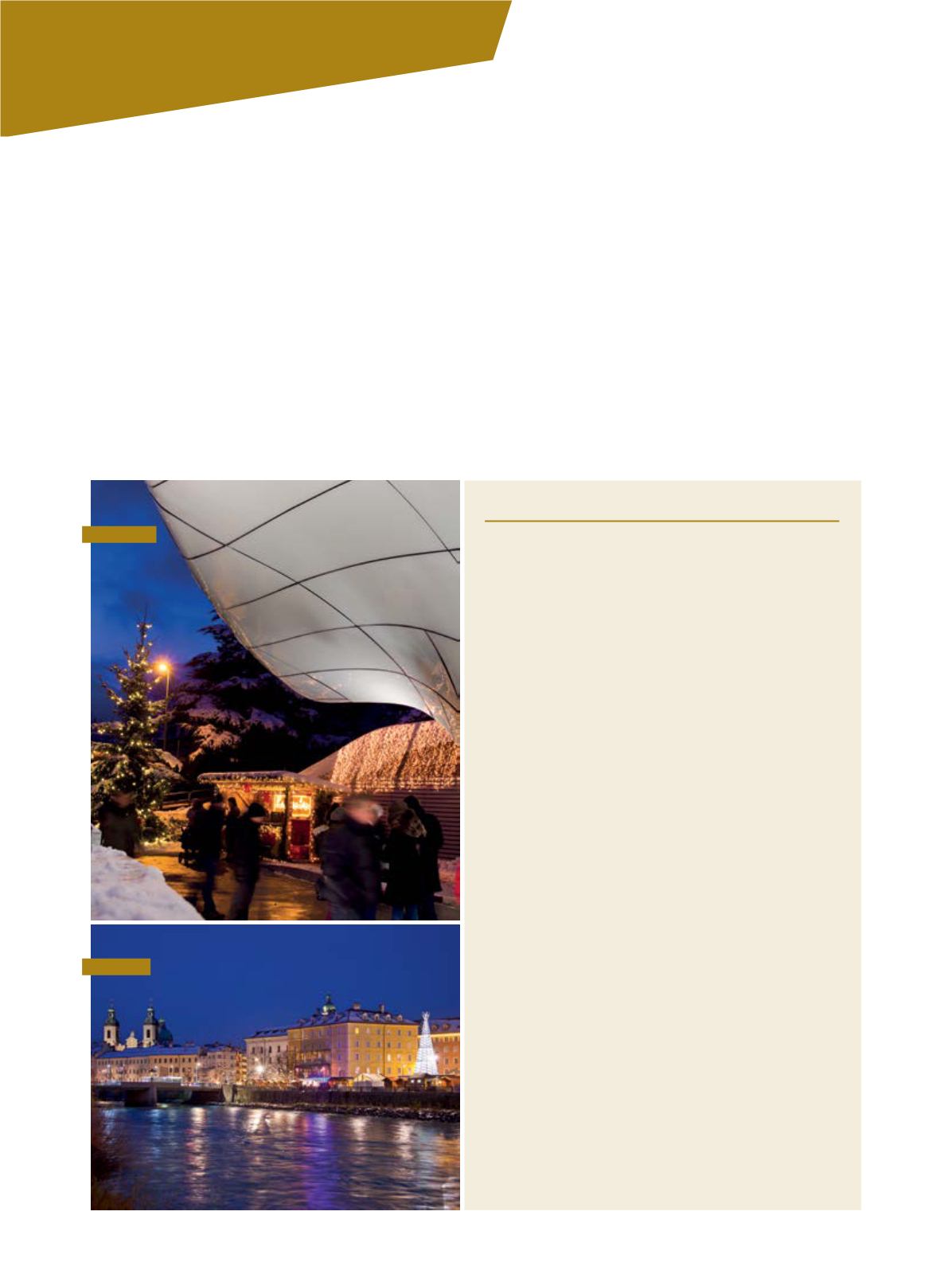 lpine atmosphere spreads throughout the city, where traditio-
nal andmodernelementscombineand thepeoplegather from
the GoldenRoof up to theHungerburg. Musical performances,
gift ideas, handicraftsandsparklingchildren'seyes in the "StreetofFairy
talesandGiants" in theOldTownare theevidenceof thecolourfuldiver-
When the city is filledwitharomasof glühwein
(mulledwine), punch, hot chestnuts
andkiachl (yeastdough fried inoil, servedwith sauerkraut, cranberryor sugar) and crowds
of peoplearegatheringaround195 lovelydecoratedmarket standsundera snowy sky -
then Innsbruck'svisitorsknow that Christmas is coming. //
RENATELINSER-SACHERS
sity that isoffered from the15
ary2015. The firstChristmasmarket in Innsbruck tookplace in1973and
today, 41years later, the fascination that arisesamongst localsandvisi-
tors isstillalive. Evenbetter–Meanwhilealso themoreexposedpartsof
thecity follow theyearlyhighlight in theirown individualway.
INNSBRUCK'SCHRISTMASMARKETS
At theMarktplatz– the familymarket
15
th
Novemberuntil 23
rd
December2014, daily
In the style of a Tyrolean village with puppet theatre, story time,
petting zoo, nostalgic carrousel and customs, thismarket is ideal
for families. The over 14metres high Swarovski Christmas tree is
MariaTheresienStreet – themodernmarket
25
th
November2014until 6
th
January2015, daily
On Innsbruck's splendid streets, glass, light and crystal dominate
in an alley of sparkling trees. Highlights are themountain crystal
that can be spotted from a far distance, the great variety of inter-
national Christmasproductsand the culinarydelights.
ChristmasMagic inWilten– theartisticmarket
24
th
Novemberuntil 20
th
December2014, closedSundays
Thepleasant smell of lebkuchenand candiednuts in combination
with the traditional idyllic Christmasmelodies gets everyone into
the Spirit of Christmas. The traditional market also offers a cultu-
Hungerburg– thepanoramamarket
21
st
Novemberuntil 21
st
December2014, Fridayuntil Sunday
Thedriveup in theHungerburgcablecardirectly from thecitycen-
tre is an experience in itself – including an amazing view over the
roofs of Innsbruck. Small and nicewith tasty food and traditional
souvenirs, starting from5:00pmawindquartet isplayingdaily.
SaintNikolaus– thequietmarket
28
th
Novemberuntil 23
rd
December2014, daily in theevenings
Small and cosy away from the hustle and bustle this rustic mar-
ket fascinates at the square Hans-Brenner-Platz in the city part
"Anpruggen" for the second time in this year. Less stands but