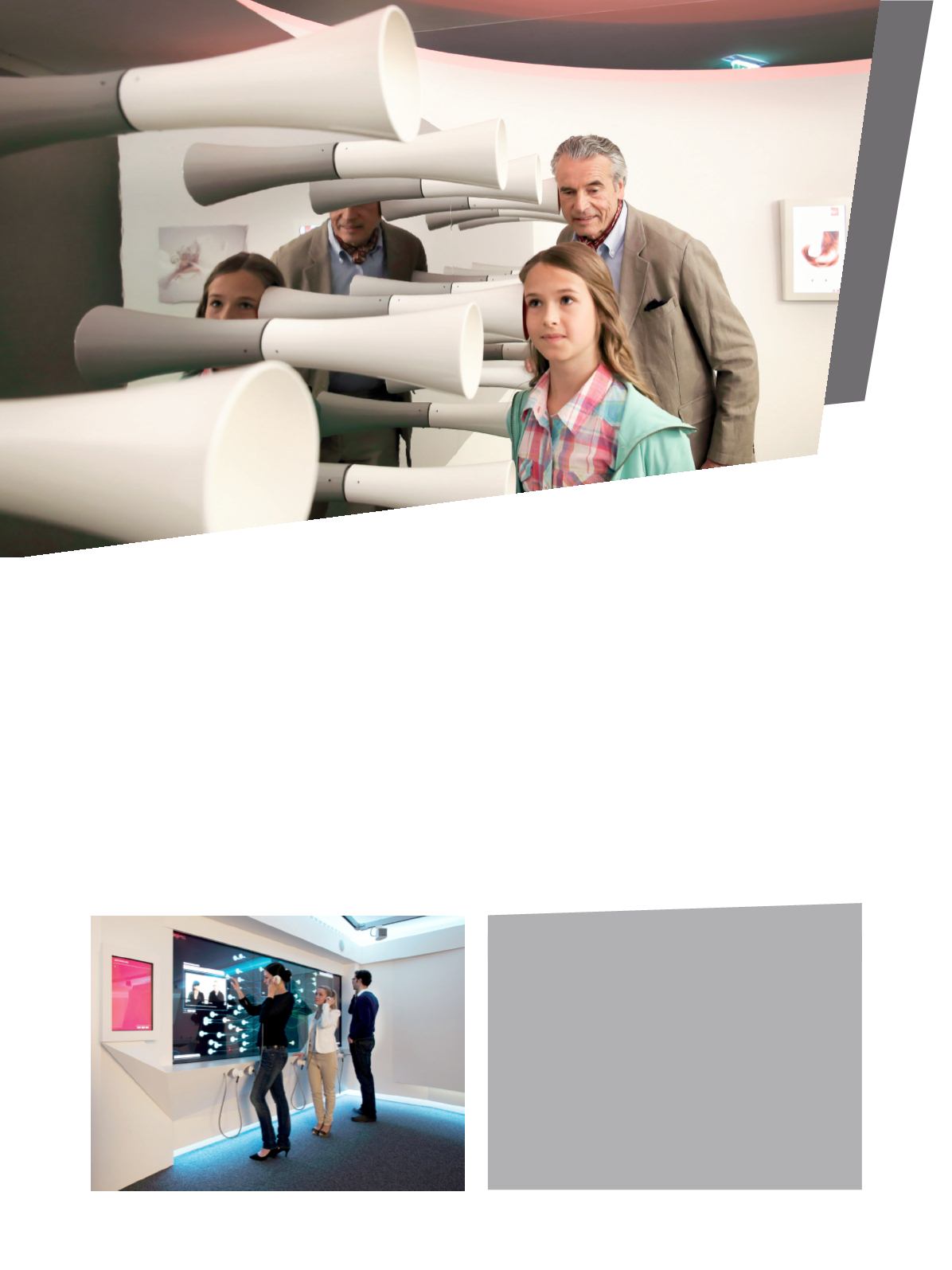 ie europaweit einzigartige Erlebniswelt AUDIOVERSUM infor-
miert auf über 1.000QuadratmeternAusstellungsfläche so-
wohl Kinder als auch Erwachsene über die Bedeutung guten
Hörens. 20 hochtechnologische Installationen eröffnen den Besu-
chernauf spielerisch-interaktiveArt neuePerspektivenauf dieakus-
tischeWahrnehmung.Mitmachen strengstens erwünscht!
Bis in den Spätsommer können Besucher hörtechnisch noch so
richtig abheben: In der spektakulären Sonderausstellung "Sounds Of
Space" tauchen Sie in die Akustik desWeltalls ein und erleben dabei
einganzesUniversumanKlängen, GeschichtenundHighlightsausder
udioversum is considered a unique world of hearing
experiences in all of Europe, informing children as well as
adults about the significance of hearing. The 1,000 squa-
re meter large exhibition features 20 high-tech installations that
introduce visitors to new perspectives of acoustic awareness in an
interactive and playful way. Active participation is strictly allowed!
Until late summer visitors are able to enter an additional dimension
of hearing technology. Immerse into the acoustics from outer space
at the spectacular special exhibition "Sounds Of Space", where you
can experience a universe of sounds, stories and highlights from this
AVOYAGE INTOTHEWORLDOFHEARING
AUDIOVERSUM
Wilhelm-Greil-Straße23
6020 Innsbruck
Tel.: +435778899
Öffnungszeiten:
Di. bisFr. von9bis18Uhr
Sa., So. undFeiertag von10bis18Uhr,MontagRuhetag
Openinghours:
Tue toFri from9am to6pm
Sat, Sonandholidays from10am to6pm, closedMondays