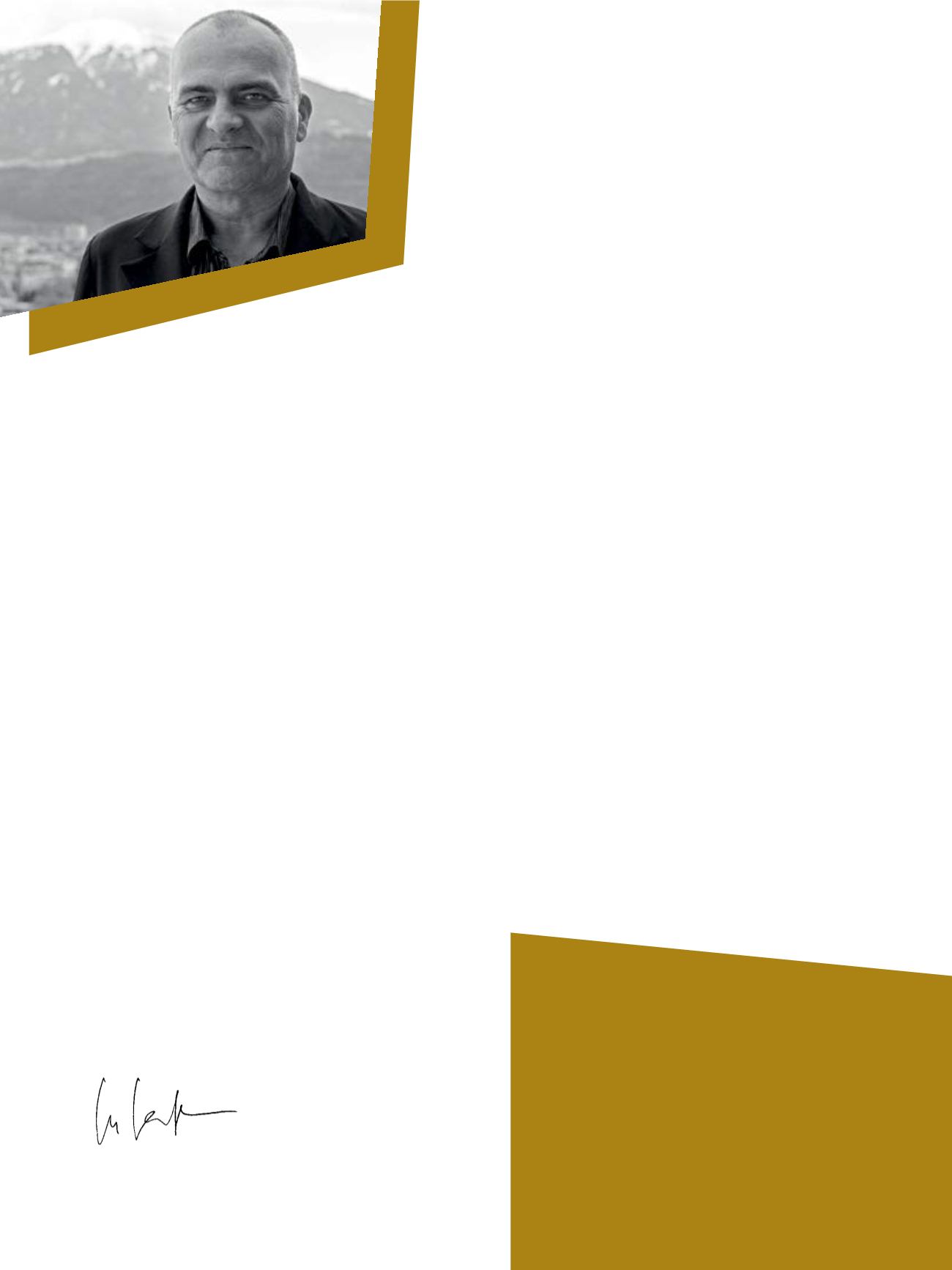 Welcome–DasoffizielleGästemagazinvomTourismusverband Innsbruckund seineFeriendörfer
Erscheinungsweise: 2x jährlich •AuflageproMagazin: 35.000Stück
Medieninhaber, VerlegerundHerausgeber: eco.novacorporatepublishingKG•Geschäftsführung:
Mag. SandraNardin, ChristophLoreck•Redaktion: RenateLinser-Sachers, Dr.MonikaFrenzel,
MarinaKremser,MartinWeissenbrunner •Grafik: SophieFrenzel •Anzeigen: Tanja Ischia, Christoph
Loreck,Mag. SandraNardin, Ing. ChristianSenn, BrunoKönig•Bildnachweis:Wennnicht anders
gekennzeichnet TVB Innsbruckund ieineFeriendörfer •Druck: Radin-Berger-PrintGmbH•Redaktion
undAnzeigenannahme: eco.novacorporatepublishingKG, Hunoldstraße20, 6020 Innsbruck,
Tel.: 0512 /290088, E-Mail:welcome@econova.at,www.welcome-innsbruck.at
Welcome– theofficial guestmagazineof the Innsbruckand itsHolidayVillagesTouristBoard
Publication frequency: twiceyearly•circulationpermagazine: 35,000copies
Mediaowner, publisher andeditor: eco.novacorporatepublishingKG•Management:Mag. Sandra
Nardin, ChristophLoreck•Editorial team: RenateLinser-Sachers, Dr.MonikaFrenzel,MarinaKremser,
MartinWeissenbrunner •Graphics: SophieFrenzel •Ads: Tanja Ischia, ChristophLoreck,Mag. Sandra
Nardin, Ing. ChristianSenn, BrunoKönig•Photocredits: ifnototherwisestatedTVB Innsbruckand its
HolidayVillages•Print: Radin-Berger-PrintGmbH•Editorial andAdvertisingOffice: eco.novacorporate
publishingKG, Hunoldstraße20, 6020 Innsbruck, Tel.: 0512 /290088, E-Mail:welcome@econova.at,
er Air & Style Contest wird durch den Weltstar Shaun Whi-
te am 16. & 17. Jänner 2015 den Namen Innsbrucks in neu-
er Dimension nicht nur in der Boarderszene verbreiten. Und
der Sport begleitet die Stadt noch weiter: Die neun Skigebiete rund
um Innsbruck, vom Stadtzentrummit Gratis-Skibussen und öffent-
lichen Verkehrsmitteln erreichbar, bieten für unsere Gäste Winter-
sportmöglichkeiten aller Art. Und die Nordkettenbahn führt uns von
der Altstadt aus in30Minuten indieWiegedesFreeridens.
AmAbendoder bei Schlechtwetter ruft dieStadt und lädt zumFla-
nieren oder Shopping ein. Ob auf dem Christkindlmarkt oder in den
vielen verschiedenen Geschäften und Lokalen, traditionell in der Alt-
stadt und modern auf der Maria-Theresien-Straße – Innsbruck pul-
siert. UmdieStadt unkompliziert zuerleben, bietet sichdie Innsbruck
Cardan,mit der Sieum33Euroall inclusiveBergbahnen, Sehenswür-
digkeitenundMuseenbis hin zumAlpenzoobesichtigen können. Be-
sonders hinweisen möchte ich unsere Besucher auf die Veranstal-
tungen der AltenMusik, die hier seit Jahrhunderten gepflegt wird. Sie
finden diese und das umfangreiche Kulturprogramm auf unseren di-
versen Veranstaltungskalendern wie
DieFeriendörfer sowiedasSonnenplateauMiemingermöglichendazu
einen ruhigenundnaturnahenAufenthalt inStadtnähe.
Ich wünsche unseren Gästen einen schönen Aufenthalt in unse-
rer Stadt oder der reizvollenUmgebung undhoffe, dass Sie genügend
Gründe finden, wiederzukommen.
Dr. Karl Gostner
ObmannTourismusverband Innsbruckund seineFeriendörfer
InnsbruckundWintersport,
das ist einBegriffspaar, das
spätestens seitdenbeidenOlympischenSpielen1964
und1976weltweitbekannt ist. Über20 JahreAir&
StyleunddieYouthOlympicGames2012 stehen fürdie
zeitgemäßeEntwicklungunserer Stadt. Undwirbleiben
nicht stehen.
he Air & Style contest on the 16
increase the fameof Innsbrucknot only in theboarder scene
inanewdimension - thanks toworld star ShaunWhite.
Andbeprepared formore: Thenine ski areasaround Innsbruck, which
are accessible from the city centre with free ski shuttles and public
transport, offer our guests all kind of winter activities. Not to forget
theNordkette cable car that takes uswithin30minutes from theOld
Town into theMeccaof Freeriding.
At night time or when there is badweather, the city invites you to
stroll around or to go shopping. Whether at the Christmas market,
the different shops andbars, the traditional Old Town, or themodern
Maria Theresien Street – Innsbruck is pulsating. If you prefer an un-
complicated experience, you can get the Innsbruck Card for 33 Eu-
ros, whichallows you to visitmountain railways, sights,museums and
the Alpine zoo all inclusive. I would particularly like to draw attention
to Innsbruck's Festival of Early Music (Festwochen der Alten Musik),
which has beenmaintained for hundreds of years. You will find this
and theextensivecultureprogrammeonourdifferent event calendars
If you want to unwind, the
holiday villages and the sunny plateauMieming offer a calm stay in a
natureparadise close to town.
I wish our guests a pleasant stay in our city and its stunning
surroundingsandhope towelcome youback in the future.
Dr. Karl Gostner
Chairmanof the Innsbruckand itsHolidayVillages Tourist Association
Innsbruckhasbeenachieving
worldwide recognition,
especially for itswinter sportand since thehosting
of theOlympicGames in1964and1976.More than
20yearsofAir&Styleand theYouthOlympicGames
2012 show themoderndevelopmentof our city.
Andwedon't stop.