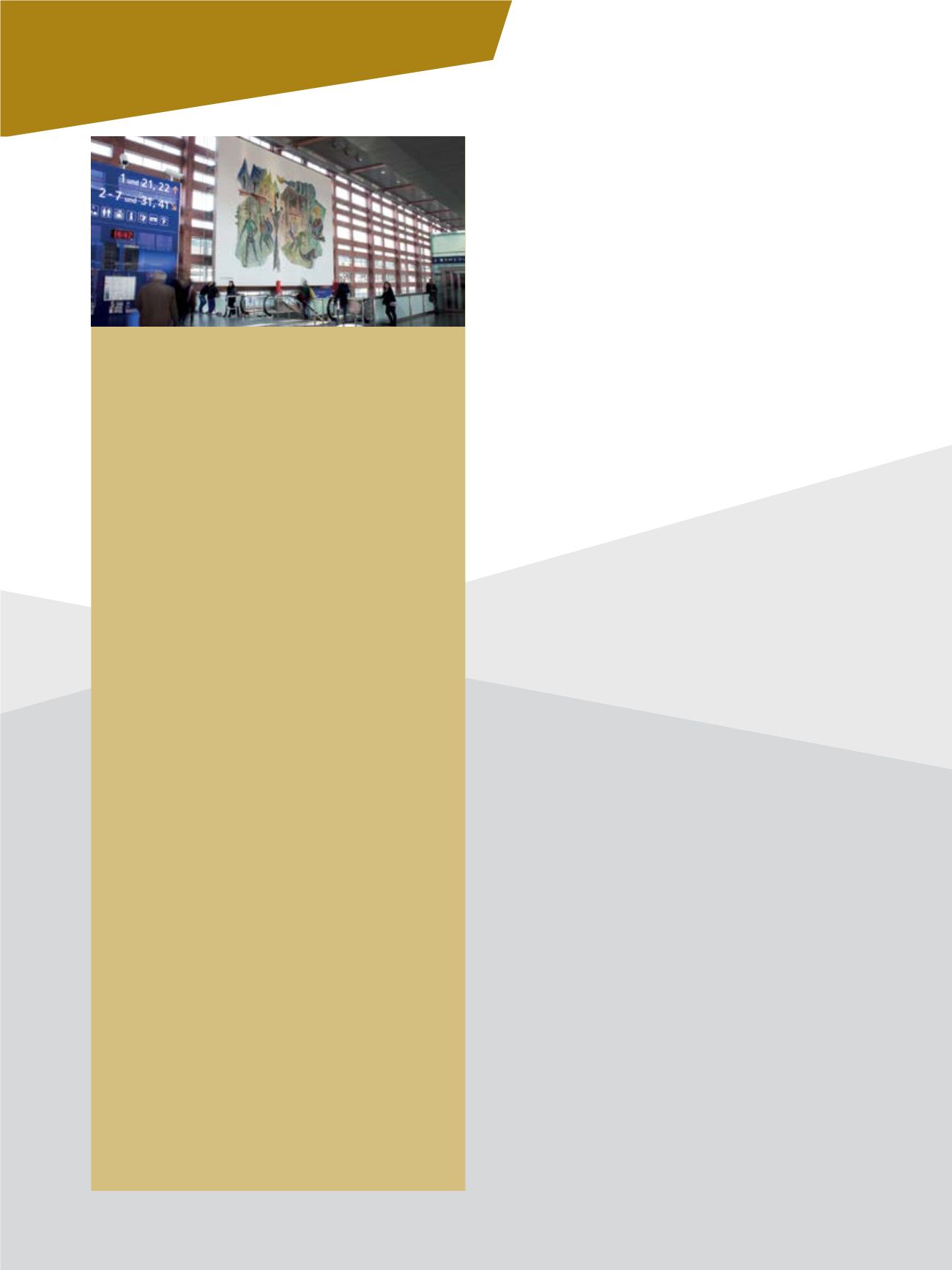 WELCOME
||
114
GRIASS ENK UND ...
HELLO AND GOOD BYE ...
Moment!
An Innsbrucks erster Adresse fürs Ankommen und
Abfahren geht es zwar zügig zu, aber ein paar Informatio-
nen auf die "Schnelle" gehen sich immer aus. //
Hang on!
At
Innsbruck's Central Train Station people arrive and depart
constantly, but there is always time for some information.
Z
um Beispiel, dass nicht weniger als 25.000 Bahnreisende
täglich, die mit 450 Zügen ankommen, durch das Bahn-
hofCenter Innsbruck strömen. Alle Kundinnen und Kun-
den, die hier am BahnhofCenter Innsbruck der kleine oder gro-
ße Hunger plagt, oder all jene, die noch was für den täglichen
Bedarf brauchen, können bequem und einfach in einem der 20
Shops und Gastronomiebetriebe einkaufen. Und das zu den längs-
ten "Shoppingzeiten" in ganz Innsbruck. Die ÖBB-Service-&-In-
fo-Points, wie das ÖBB Reisecenter, der ÖBB INFO-Point oder der
Warteraum, machen allen Zugreisenden den Aufenthalt am Bahn-
hofCenter Innsbruck komfortabel. Und wer ein paar Minuten Zeit
übrig hat, kann sich die beiden berühmten Kunstwerke von Max
Weiler anschauen, die die Ostseite der Bahnhofshalle zieren. Nicht
zu übersehen – denn ein Bild bringt es auf immerhin 40 Tonnen.
In diesem Sinne… Pfiat enk, Adieu, Arrivederci, Ciao, Tschüss und
Auf ein Wiedersehen am BahnhofCenter Innsbruck.
||
F
or example, did you know that not less than 25,000 travel-
lers arrive daily in 450 trains? Innsbruck's Central Train Sta-
tion offers more than 20 shops and restaurants, where our
customers can find everything for their daily use and their journey.
We also provide the longest shopping hours of Innsbruck. The staff
of the customer information is at your disposal anytime and hel-
ps you exactly where it is necessary. Also, an Info Point and other
digital medias for further information are available – simple and
customer friendly. In order to help you find your way – whether at
the arrival or the departure. Plus: The Central Train Station is a pla-
ce of art. Two 110 m² large paintings by the artist Max Weiler deco-
rate the walls. Well, enough said, time to say Good Bye, Adieu, Arri-
vederci, Ciao, Tschüss and we are looking forward to see you again
at the Central Train Station in Innsbruck.
||
Opening hours: Mon to Fri from 8am to 1pm
• Innsbruck Airport
Fürstenweg 180, 6020 Innsbruck
Tel.: +43 512 22525-0,
info@innsbruck-airport.com
Bus line F from Innsbruck Central Train Station, departures: appr. every 20mins
• Innsbruck Central Train Station
Südtiroler Platz 7, 6020 Innsbruck
Travel agency, ticket sales and railway schedule at +43 5-1717
Important Fares
•
Taxi rates for Innsbruck
Inner city zone rate: 6.20 Euro (up to 1,300 meters)
Short haul: 1.90 Euro per kilometer (1,300 to 4,000 meters)
Long haul: 1.70 Euro per kilometer (over 4,000 meters)
Waiting time rate: 0.50 Euro per minute
Sun- and holiday rates: 6.60 Euro (incl. 1,300 meters)
Night rate (10pm to 6am): 6.60 Euro (incl. 1,300 meters)
•
IVB City Bus Tickets
24-h-ticket core zone: 5.10 Euro, 1 week-ticket: 19.90 Euro
Discount available for families, seniors, students and persons with disability
Main Parking Garages
• Old Town garage (Markthalle):
1hour: 2.40 Euro; each additional 1/2 hour:
1.20 Euro; daily rate (after first 8 hours): 16.80 Euro
• Central station garage:
1/2 hour or part thereof: 1.30 Euro; daily rate (after
first 8 hours): 17 Euro
• Congress garage:
1/2 hour: 1.10 Euro; daily rate (after 6–24 hours):
14 Euro
• Kaufhaus Tyrol garage:
first 1/2 hour: 1 Euro; each additional 10 minutes:
0.40 Euro; daily rate: 15 Euro
• Landhausplatz garage:
1 hour: 2.40 Euro; each additional 1/2 hour:
1.20 Euro; daily rate (after first 8 hours): 16.80 Euro
• Rathaus garage:
1 hour: 2.40 Euro; each additional 1/2 hour: 1.20 Euro;
daily rate (after first 8 hours): 16 Euro
• Tourist Centre garage (Casino Innsbruck):
1 hour: 2.40 Euro, each
additional 1/2 hour: 1.20 Euro; daily rate (after first 8 hours): 16.80 Euro
• Central garage Stadtforum:
first 1/2 hour: 1 Euro;
each additional 10 minutes: 0.40 Euro; daily rate: 15 Euro
Innsbrucker Nordketten Cable Car
• Innsbruck–Hungerburg one way
4.60 Euro
• Innsbruck–Hungerburg return:
7.60 Euro
• Innsbruck–Seegrube one way:
16.50 Euro
• Innsbruck–Seegrube return:
27.50 Euro
• Innsbruck–Hafelekar one way:
18.30 Euro
• Innsbruck–Hafelekar return:
30.50 Euro
Innsbruck Card
• 24 hrs:
33 Euro
• 48 hrs:
41 Euro
• 72 hrs:
47 Euro
Children's discount (6-15 yrs): 50 %
Available at hotel information, Innsbruck Central Train Station, or at
Information Innsbruck, Burggraben 3. Sales and information are also
available at all Tourism Offices of Innsbruck Tourismus, at the Cable
car cashier booths, in various hotels and in larger museums or at
www.innsbruck-shop.com